Tools & Materials
The Only Hand Tools Garrett Hack Really Needs
From milling and layout to fitting joints and smoothing, this tidy hand-tool kit does it all when on the road.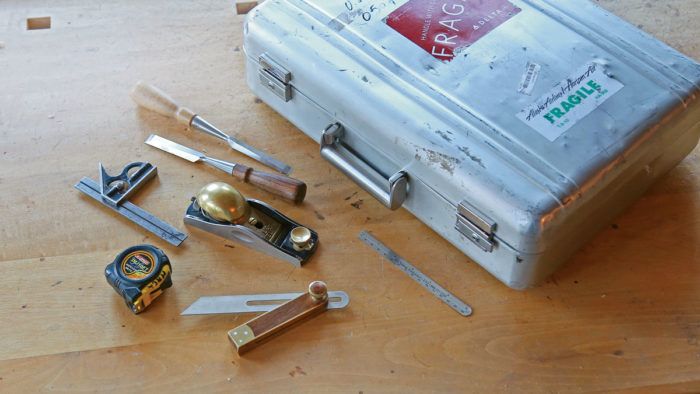 I am fortunate to teach woodworking classes around the United States, in Canada, and in faraway places such as Japan and Germany. I learned early on that I need my own tools with me when I teach, ones that I know well and that are dependable, perfectly tuned, and sharp. Through the years, I've worked to minimize the number of tools in my kit. It has to be complete enough to build a whole project, yet light enough to carry through airports and on buses and trains. Although I am still fine-tuning my kit—replacing a tool with a lighter version, for example—it's proven to be lean and capable of a wide range of work. When it comes to hand tools, this kit contains all I need including planes, scrapers, chisels, saws, scratch stocks, and a means to sharpen everything – it's all there.
Choosing planes to include in the kit was tough, because they should be few in number but able to perform a wide variety of work. A jack plane and two block planes can handle just about any planing task outside of joinery, and a shoulder plane gets the job done there. One spokeshave is all you really need for curves. Keep some card scrapers on hand, too.
It's possible to get by with just three or four chisels, but it's better to have more, so you'll always have the one that allows you to work most efficiently. In place of a very wide one, you can use the blade from your low-angle jack plane. Throw in a pair of small saws, and you're ready to cut and fit most furniture joints.
I couldn't make furniture without my magic box of scratch cutters. Everything I need to make, sharpen, and use them fits into a nifty little box. Equipped with an assortment of profile cutters, a scratch stock allows you to create furniture that is genuinely custom.
Hand tools are useless if they're not sharp, so no kit is complete without the means to sharpen them. It doesn't take much to hone an edge. When traveling, I get by with half a diamond plate and one waterstone. Around the shop, I use a grinder to maintain the bevel.
From Fine Woodworking #265
For the full article, download the PDF below:
More on FineWoodworking.com:
View PDF