Tools & Materials
10 Essential Layout Tools
Ten tools that every woodworker should have to lay out their next project.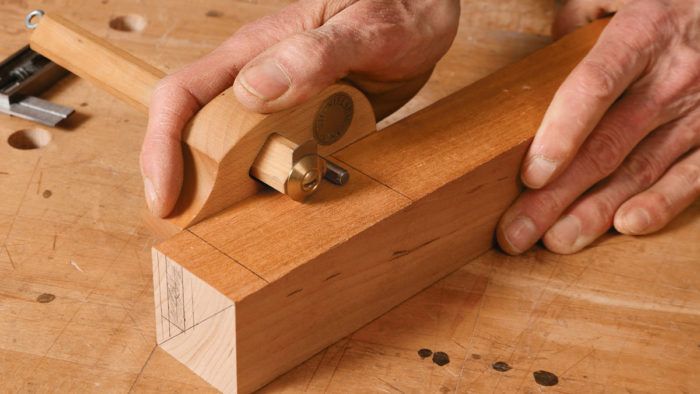 Synopsis: Before you can cut any woodworking joint, you need to lay it out. This list of essential layout tools ensures you'll get the job done quickly, efficiently, and precisely. For measuring you need a tape measure, combination square, double square, and 6-in. rule. For marking, make sure you have a marking knife, mechanical pencil, and marking gauge. And for angles and curves, a sliding T-bevel, dovetail marker, and 8-in. compass will round out your toolkit.
---
Let's start with the basics. it's likely you already have a tape measure. These are real multipurpose workhorses. I use a 16-ft. tape, which is a great length for general use. The tape is my go-to measuring tool for roughing out boards, but I also use it to check cases for square and mark out dovetail spacing.
Tapes have a loose hook at the end that moves in and out. Pushed in, it delivers an accurate measurement for the inside of a case or drawer. Pulled out, it can be hooked over the edge of a piece to measure outside dimensions accurately.
Next you'll need a square, or better yet two. A 12-in. combination square is useful for a variety of layout tasks, such as marking across boards for cutting to length and laying out mortises across sets of legs. Plus you can use the angled fence to mark 45° angles. The 12-in. rule can be used as a straightedge and rule as well.
For smaller work, a 3-in. double square is the ticket. The size is less cumbersome than the 12-in. square for things like small drawers and moldings. It's also helpful for transferring dovetail marks onto the end grain of the board. Also, by holding a pencil against the square and sliding it along edges, you can use it to make long parallel marks for laying out tabletop bevels and chamfers.
For finer work, i use a 6-in. precision rule. This tool really shines at any task where I need to measure down to 1⁄64 in., such as marking out mortise locations on a leg, and any situation where a 12-in. combination square's rule is too cumbersome, such as spacing out dovetails on small drawer parts. It rounds out the measuring side of my layout kit.
To accompany the tape, rule, and square, you'll need something to mark with. A good old yellow No. 2 pencil seems an obvious choice and will work well, if kept sharp.The downside is that the longer the line, the wider it gets as you mark.
For the full article, download the PDF below.
View PDF