One Bench Plane Can Do it All
Stretch your tool budget by using different blades in one low-angle jack plane.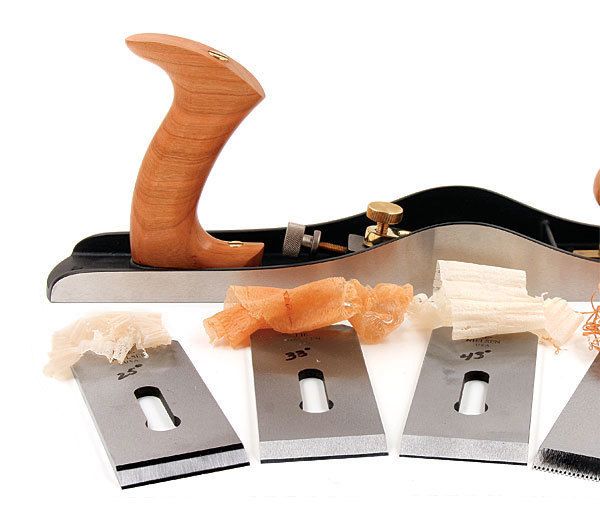 Synopsis: End grain, surface grain, wild grain, wide boards: You can tackle all four of these jobs using one low-angle jack plane, if you follow Chris Becksvoort's advice and invest in four different blades. Becksvoort uses a Lie-Nielsen 62, with three standard blades sharpened to different angles and one toothed blade for flattening wide boards.
I once was labeled as the belt-sander guy because I used that tool to do a lot, including level the faces of my 15-drawer chest. So it might surprise you that despite this label, I have quite the plane collection. Over the last two decades, I've used handplanes more and more. They are quiet, create no dust, use no electricity, and, when used correctly, do as good a job as— or better than—a sander.
I love all my planes, but lately I reach for one in particular most of the time— the versatile low-angle jack plane. My LieNielsen version is based on the old Stanley 62. At 14 in. long, it is the size of a jack plane, but the blade is bevel up and is bedded at 12°, making it technically a block plane. But you use it like a bench plane, with a two-handed grip that gives more power and control.
But here's the best thing: By grinding blades to different angles, I can use the low-angle jack plane for a variety of tasks such as end-grain work, smoothing straight and wild grain, and removing a lot of wood on finicky boards.
For the cost of two extra blades at $40 each and one toothed blade at $65 (all from Lie-Nielsen), you can have essentially four different planes for less than what it would cost to buy two. By the way, other companies offer lowangle jack planes (and extra blades), too. For example, Lee Valley sells a very good one for $25 less than the Lie-Nielsen.
If you don't have a grinder or are afraid to risk drawing the temper out of the blade, it may seem daunting to change the blade angle. However, because you are increasing the bevel angle, you only need to hone at the very tip of the edge.
The low-angle jack plane comes with a 25° beveled blade. Together with the 12° bed angle, it cuts at 37° (like a block plane), perfect for end-grain work. Block planes were originally used on butcher blocks, hence the name. Think of endgrain planing like paring with a chisel. The back of the chisel is flat on the wood, and the bevel, at 30° or 35°, does the cutting. I use this blade for trimming drawer dovetails, as well as smoothing end-grain edges.
From Fine Woodworking #217
For the full article, download the PDF below:
View PDF