Tools & Materials
A Joiner's Tool Kit
Peter Follansbee gives a glimpse into his hand-tool kit to show us what's there and why it's important.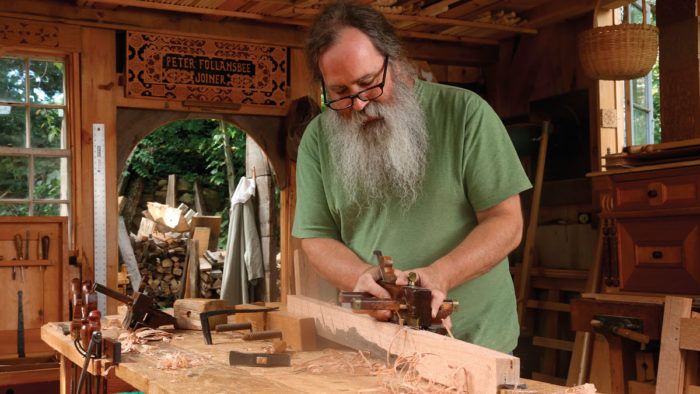 Synopsis: The first, most vital step in Peter Follansbee's all-hand-tools approach to furniture making is to start with straight, riven stock. If you do that, you need just a modest-sized set of tools to do the rest of the work, such as a hatchet, a variety of handplanes, a handsaw, measuring and marking gauges, chisels, various carving tools, and more. Follansbee gives a glimpse into his tool kit to show us what's there and why it's important.
---
For the last 35 years, as a professional furniture maker, I've made a lot of boxes, chests, chests with drawers, chairs, stools, beds, settles, tables—fairly common forms. Less common, though, is that I typically work using 17th-century conventions, trying to adhere to the practices of the joiners—furniture makers—of the time. This means using all hand tools all the time and stock often split green from a log. My use of riven stock has ripple effects through my whole tool kit, since I get to take advantage of well-behaved, straight-grained wood, which saves me time and energy. While there's plenty of work splitting out stock, it's proved an excellent way to make furniture expeditiously and with a modestly sized set of tools.
Stout tools for splitting
I start most of my work by splitting open an oak log—red or white—to make my own stock. So I begin with something to crosscut the log. A chainsaw makes short work of this, although I like them best when someone else uses them. In lieu of that, I often use a large folding saw that has 4 teeth per inch, designed for making fast cuts in large stock. To open up the log, I use steel wedges and homemade wooden wedges, a sledgehammer or large wooden mallet, and a hatchet. My steel wedges are decades old. New ones often need regrinding; they have too blunt an angle, preventing them from easily entering end grain. When wedges bounce out of the log, shins are at risk.
Peter Follansbee specializes in 17th-century furniture.
From Fine Woodworking #279
---
View PDF