Make Your Own Scratch Stocks
These tiny tools will have a big impact on your furniture; hand-tool expert Garrett Hack explains how.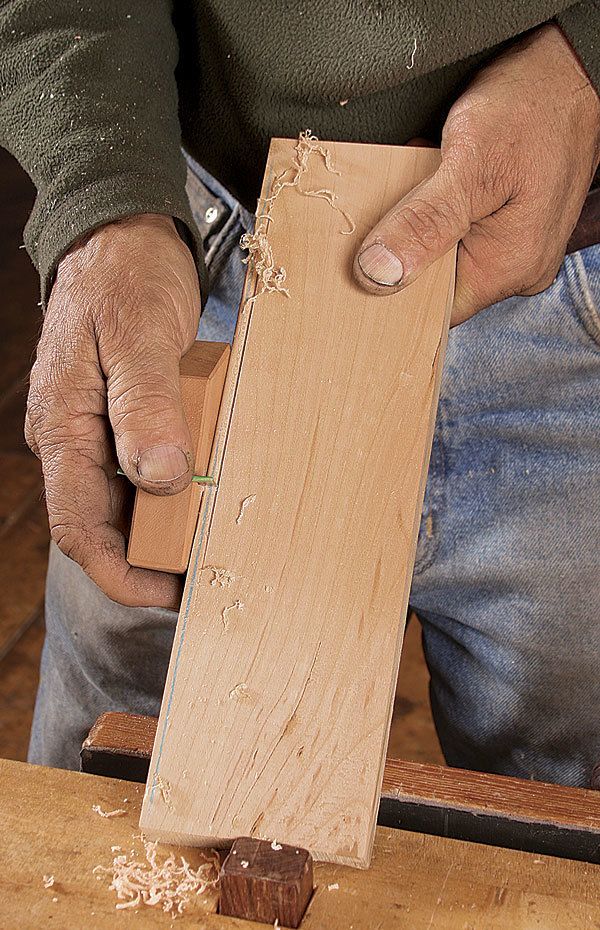 Synopsis: Scratch stocks are small and simple tools but they can make a world of difference in your furniture. With just a shopmade scratch stock and a bit of ingenuity, you can add a custom edge detail to your furniture and go way beyond what is possible using router bits. There's really no limit to the profiles you can create. The two Garrett Hack uses most often are for beading an edge and excavating for string inlay.
Every so often you discover a hand tool that changes your woodworking. Scratch stocks have changed mine. These versatile tools have not only greatly expanded my ability to create fine details, but they've also changed my design aesthetic, allowing me to play with edges to create custom profiles that fit perfectly with my work. and the design possibilities are almost limitless.
I use a shopmade scratch stock. It's really just a small metal scraper sharpened to carve a detail into an edge and held in a block of hardwood. you can make any shape you want way beyond what any stock router bit can achieve. I use them to cut finely molded details like delicate beads as well as perfectly excavated inlay grooves. well-sharpened, a scratch stock will cut cleanly in any wood, even in the most ornery or figured species.
Here I'll show you how to make a simple scratch stock, and give you some tips on using one. This size works for many applications. It will cut as far as 1 in. from the edge. For cuts farther in, you'll need a larger blade and/or holder.
Create the profile
The best steel to use is the kind found in an old handsaw or card scraper, known as "spring temper" steel. It's soft enough to take a profile easily yet durable enough to hold an edge in almost any wood. I start by cutting a blank that's roughly 1 in. by 11⁄4 in. Use a flat file to square up any edges of the blank that you'll use. Once that's done, it's time to create the profile, in this case a simple bead. I work by eye, but for your first time you may want to draw it out on the blank. Your call. A blank can have four different profiles, if you'd like—one on each corner. Then you simply rotate the scraper in the holder to the profile you want to use. Holding a round file horizontally and just in from the corner of the blank, cut until it is about half buried in the edge. The shape can be round or oval. The goal is to leave a small tooth on the corner.That tooth cuts the groove, or quirk, that defines the bead. A fine tooth works best. Once the profile is created, it's time to sharpen
For the full article, download the PDF below:
View PDF