Four Planes That Earn Their Keep
These quiet hand tools belong in any power workshop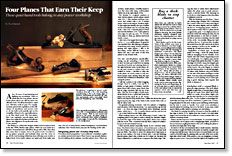 Synopsis: Among all the machines, tools, and jigs in Sven Hanson's shop, four planes — a smooth plane, jack plane, low-angle block plane, and bullnose plane — are his favorite tools. He talks about Stanley planes, how to set them up and maintain them, and how to integrate them into everyday shop work. He explains what each plane does best and demonstrates five steps to tune a plane. He mentions other types of planes too, but those four take center stage.
After 20 years of mechanizing and jigifying my woodshop, I have to admit that the four planes shown in the photo above are still my most costeffective tools. Not all by themselves, mind you. But they work as part of a complementary system that capitalizes on the efficiency of machinery and power tools to do the bulk work quickly and on the versatility of hand tools, especially planes, to do fine detail work. The four planes that I use regularly—smooth plane, jack plane, low-angle block plane and bullnose plane—also happen to be my favorite tools to use, period.
The Stanley Co. refined the designs of their cast-iron planes back in the late 1800s. Stanley-style planes, which are now made by a number of manufacturers, still deliver the goods in 1995. Sure, they take some time to master, but so do power tools. You have to set up planes properly and maintain them, but investing a little time here will raise your work to a higher level. Even better, planes are quiet and don't make any dust. The joy of using finely Crafted handplanes, woodworkers' mainstays since Roman times, just puts the frosting on the cake.
Integrating planes into everyday shop work
For serious stock preparation, I use a tablesaw, a bandsaw, a planer, a jointer and several routers. Then I turn to my arsenal of planes. I'm not talking about antique, wooden planes here. These are modern, metal planes, carefully tuned to have flat soles with sharp, well-bedded blades set at the right depth of cut.
The Stanley Co. assigned numbers to their various planes, Bench planes started with a No. 1 (the smallest and least common) and ended with a No. 8 jointer plane, which is the largest. Numbers higher than eight just identify the type of plane and do not indicate size. In everyday shop work, I use a No. 4 smooth plane to level and smooth surfaces, a No. 5 jack plane to joint edges for glue-up and a No. 90 bullnose plane to clean up rabbets and bevel inside corners.
I also use a low-angle block plane (Stanley No. ) as a utility player. It's great for one-handed jobs, like planing end grain, chamfering and truing. And it's great for getting into tight places. I like it for smoothing certain difficult woods, too. Here's the way I use each of the four planes in my normal work…
From Fine Woodworking #112 
For the full article, download the PDF below:
View PDF