How-To
Hone Your Hand-Tool Skills
A handful of exercises develops competence and confidence with chisels, planes, and saws.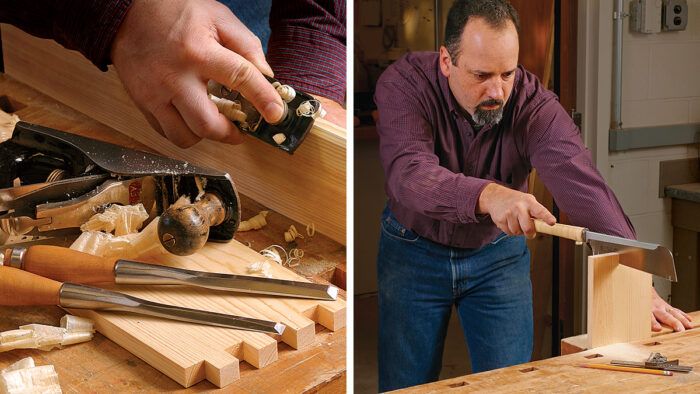 Synopsis: You can use power tools all day long, but as Fine Woodworking art director Michael Pekovich has learned, you'll never know the true joy of the craft until you learn the art of properly wielding hand tools. Pekovich takes readers through a series of skill-building exercises designed to build competence and confidence using the backsaw, chisel, block plane, and bench plane. There's no need to be intimidated — once you grow comfortable with hand tools they will lend both speed and precision to your craft.
---
Hand tools intimidated me for a long time. I knew I could trust machinery to mill flat surfaces and make perfectly straight cuts, but hand tools didn't afford the same mindless accuracy.
I've since learned that for certain tasks, a properly wielded hand tool lends speed, precision, and a sense of joy to woodworking that no machine can match. A router and dovetail jig can turn out precise dovetails all day long, but the elegant, narrow pins that are the hallmark of craftsmanship come only from a backsaw and chisels. An edge rounded over with sandpaper is lifeless compared to the crisp chamfer cut by a sharp block plane. And while a power sander can remove planer snipe and machine marks on a board, only a handplane's long, flat sole can remove imperfections while leaving a truly flat surface.
Fortunately, acquiring competence and comfort with hand tools is not a long or grueling process. There are simple skill-building exercises for the tools I use most frequently: backsaws, chisels, block planes, and bench planes. To my mind, mastery of these four tools is the foundation for doing good work.
Cutting on a line
With its top-mounted stiffener, a backsaw is designed to do one thing: cut straight lines for tenons and dovetails. The two types of backsaws are the Western saw, which cuts on the push stroke, and the Japanese saw, which cuts on the pull stroke. Because even an inexpensive Japanese saw comes razor sharp right out of the box, and beginners usually find it easier to start a cut on the pull stroke, I recommend it to those choosing a first backsaw.
To cut accurate joinery, you must be able to saw to a line scribed or drawn on a board. The easiest way to become proficient at this is to learn to cut straight down. Then it is just a matter of orienting the workpiece so that the intended line of cut is perpendicular to the benchtop. Even dovetails can be cut in this fashion simply by angling the board in the vise.
Saw to the line. Align your elbow and shoulder with the cut, keep your wrist in a neutral position, and let the saw's weight drive the cut. Don't worry about staying on the line at first. Try to make full-depth cuts without the saw binding. Once you are comfortable, you can refine the direction of the cuts with small adjustments in stance until the sawcut hits the line (below).
This exercise will help you determine the proper grip and stance for straight cuts. Use a softwood board, roughly 6 in. wide by 18 in. long, with a square cut on both ends. Draw a series of lines about 2 in. long, spaced about 1 ⁄ 4 in. apart, along the top edge of the board. Begin cutting, but don't worry where the saw is heading.
Sawing a straight line depends on setting up properly before you start the cut, then relaxing and letting the saw do the work. Once you start to cut, the saw will end up where you first aimed. Minor course corrections can be made, but blatant attempts at changing direction will wedge the blade in the kerf. Stop after a few cuts and check your progress.
From Fine Woodworking #178
For the full article, download the PDF below:
View PDF