Tools & Materials
The Types of Handplanes
There are different planes for different jobs, from sizing and prepping stock, to cutting and fitting joinery, flattening and smoothing surfaces, and shaping parts.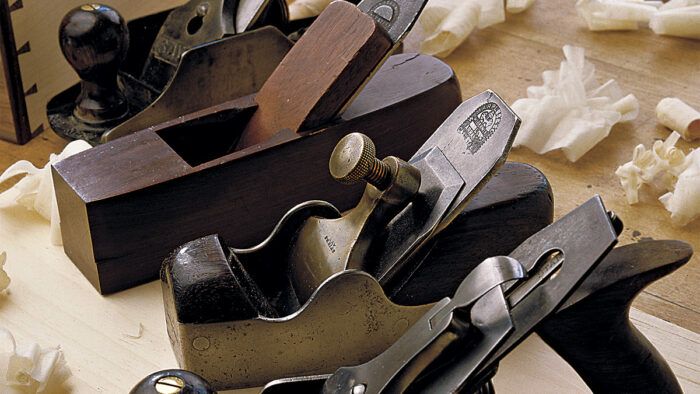 Leaf through any tool catalog and you're apt to see a couple dozen or more planes offered. Any good used-tool shop might have a hundred or more classic Stanleys and others for sale. I've seen collections of nearly a thousand planes. How are all these planes different from one another, and what are they used for? And what exactly distinguishes them as planes?
Planes are complex tools. Think of them as sophisticated chisels, where the design of the tool controls the size and quality of the shaving. The important elements are a sole that guides the cut and regulates its depth; a slender mouth that accepts the shaving, which is then curled against the cutting iron; and the pitch or angle of the iron to the work, which determines how fast the shaving is bent and curled. There is a little more to it, but essentially it all adds up to a self-regulating tool that's relatively easy to use.
As for what a plane can do, so far plane designers have had no trouble thinking up new and interesting ways to make planes that can cut everything from dovetails to ornate cornice moldings. This variety can be distilled into four basic tasks: sizing and preparing stock, cutting joinery, flattening surfaces to a smooth polish, and shaping curves and decoration. There are also specialized planes, usually associated with a specific trade and designed for a single purpose, such as cutting round tenons or half-round coreboxes. And while it would be interesting to organize planes into one of these groups, many are capable of multiple tasks.
Planes for sizing and preparing stock
When you picture a plane, it's probably a bench plane, for the simple reason that they are the hardest working and most common of all planes. Named for their work at the bench (where most planes are used), bench planes range from the tiny Stanley #1 to the #8 jointer, and include low-angle planes, block planes, and scrub planes. Bench planes are general-purpose planes. They were the thickness planers and jointers of an 18th-century shop, used for sizing, smoothing, cutting tapers, rough-surfacing parts, or performing any of the varied tasks involved in preparing stock.
While Bailey-pattern cast-iron bench planes are the most common (many sizes are still in production), wood-bodied planes are preferred by some craftsmen for their sweet action of wood upon wood. At one time, Stanley made a line of transitional bench planes, a combination of wooden body and metal mechanical parts, which have some of the advantages of both wood and metal planes.
Planes for cutting and fitting joinery
Once the stock is flattened and sized, joinery planes are put to work. We're more apt to use a tablesaw or a router to cut joinery today, but a cabinetmaker of the past relied on a variety of specialized joinery planes: plows for cutting grooves; rabbet and dado planes for cutting rabbets and grooves across the grain; dovetail planes; shoulder and bullnose planes for fitting tenons; and low-angle miter planes for trimming end grain. Some of these planes are still in production—and for good reason. No matter how you actually cut a joint, they are still the best tools for adjusting and fitting the parts.
Planes for smoothing
A third type of plane, a smoothing plane, is used after the joinery is cut. Smoothing planes have a single purpose: to plane a surface to perfect smoothness. No other tool leaves a surface with the clarity, depth, and shine of a well-tuned smoother. The best of these planes are uniquely designed for this demanding work, with thick irons to resist chatter, short massive bodies to hold the plane on the work and firmly support the iron, and narrow throat openings for the finest shavings.
Some of the most beautiful and efficient of the smoothers are steel Norris or Norris-type planes with dense rosewood or ebony infill. The #3 and #4 bench planes are also considered smoothing planes, and while they work fine on well-behaved woods, they need some special tuning to produce a flawless finish.
Planes for decoration and shaping
The fourth task that planes perform is cutting decoration and shaping. The variety of planes and type of work this includes is enormous: spokeshaves for shaping; compass planes for cutting along curves; panel-raising planes; chamfer planes; and molding planes of every description. No other hand tools can cut such details as quickly or easily, from a small bead along a table apron to bold crown moldings.
When you consider the sheer number of molding profiles and the planes needed to cut each one—plus all the other shaping planes—this is easily the largest group of planes. Fortunately, you can do most of this work with a few spokeshaves, a dozen or so basic molding-plane profiles, and your bench planes. What you can't accomplish with these you can with easily-made profiled scrapers known as scratch stocks.
There is one other form of plane that might be considered a fifth type: scrapers. Some look like bench planes, others resemble spokeshaves, and others are simply a piece of springy steel, yet they have all the characteristics of a plane. Scrapers smooth or shape with a high-angle scraping action as opposed to the slicing cut of a plane. They cut slowly, but they also work highly figured or difficult woods better than most other planes.
---
Excerpted from Classic Hand Tools (The Taunton Press, 1999) by Garrett Hack.
Available at Amazon.com.