Tools & Materials
All About Chisels
Mortise, bench, or butt chisel? Bob Smalser tells you what you need and why.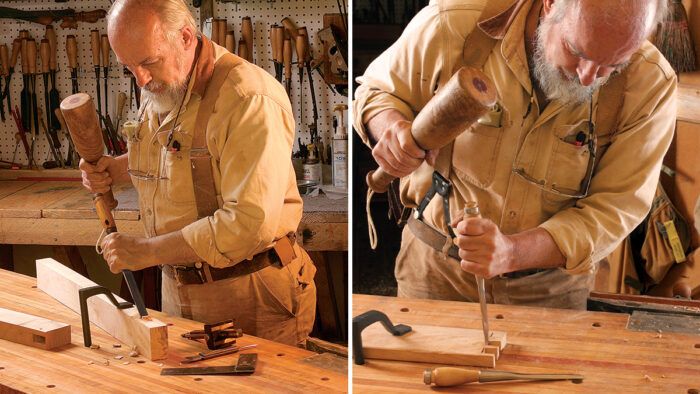 Synopsis: On the surface, a chisel is a simple tool — just a cutting edge attached to a handle. But once a woodworker starts to buy and use chisels it is easy to be overwhelmed by the array of tools available. Pick up any two woodworking books, and you'll quickly find inconsistencies in chisel nomenclature — mortise, bench, butt, bevel-edge, paring, firmer, even pigsticker and gooseneck chisels. What's the difference? What kind to buy first? And what kind of steel is best? Woodworker and boatbuilder Bob Smalser tells readers what the tool catalogs don't.
---
Are you a bit overwhelmed by the array of chisels available today? I've been at this craft since the late 1950s and I still get confused. Back then, I worked part time in my uncle's boat shop, sharpening edge tools and handsaws for two lifelong wooden-boat builders. With generations of family tradecraft behind them, these gentlemen worked primarily with hand tools at a no-nonsense, commercial pace that would astound most modern woodworkers. I've followed in their professional footsteps ever since.
Pick up any two woodworking books and you'll find inconsistencies in the labels craftsmen apply to their chisels. That's because what a chisel is called is generally based on its function, not its shape, and varies depending on the trade, era, or country in which it was used. That said, specific functions require chisels shaped in specific ways. You'll find, for example, that mortise chisels from different cultures and times have similar characteristics. Read on to understand those characteristics and how they relate to the chisels sold today. I'll also mention a couple of older tools you can only find used.
Getting a handle on things
Chisels come with either tang or socket handles. Tang-handled chisels have a tapered steel shank at one end, similar to that of a file. It's driven into a stepped or tapered hole bored in the handle, with a brass or steel sleeve, or ferrule, fitted to deter splitting. If the tang is bedded in epoxy for a perfect fit and the ferrule is strong, the handle can withstand a good bit of pounding without cracking the ferrule or splitting the wood.
Socket handles were preferred in earlier days because work didn't have to stop when the handle broke; the tradesman simply pounded the socket until he found time to replace the handle. Socket chisels are more expensive to make than tang chisels, but their handles tend to last longer and are replaced easily. Today, they are found only in a few premium brands. Many modern bench and mortise chisels look like they have traditional sockets but really don't—cut the handles off and you'll see they are tang chisels with a socketlike appearance.
The striking end of the heavier-duty chisel often is protected to prolong the life of the handle. This protection can range from leather washers on bench chisels, to steel hoops or striking rings for heavy mallet work.
From Fine Woodworking #181
For the full article, download the PDF below:
View PDF