How-To
The ABCs of Letter Carving
A few key carving techniques handle every letter in the alphabet.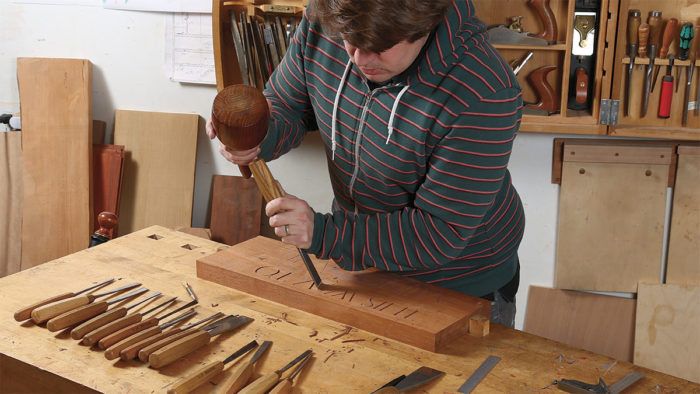 Synopsis: Using a set of core techniques and some double-beveled chisels and gouges, Clark Kellogg can carve any letter in the alphabet. And so can you. He shares the three basic shapes you need to learn for letter carving, plus the techniques he uses to carve them. He also shares tips on using the proper tools, selecting the best type of wood for carving, and more.
---
I love carving letters. There is something about the crispness of a well-cut letter that just feels like magic to me. Eight years ago, I was fortunate to be able to study with English woodcarver Chris Pye and I still carve letters using the technique he taught me. There are many other approaches to letter carving, but I like this method because you can learn the basics in about a day—the rest is just a matter of practice.
I'll explain the set of core techniques that, once mastered, can be used to create any letter in the alphabet. This type of carving works well with various styles of lettering (such as italic or Gothic/blackletter), but traditional Roman letters are the best place to start. Although typographical issues such as spacing and layout are essential elements of a successful carving, this article will focus on just the technique of carving the letters themselves.
How to Think Like a Carver by Allan Breed
Being able to rewind the clock and figure
out what the first moves a carver made on
any given project is tricky to do
All the letters are cut with double-beveled chisels and gouges. (I have had good luck with both Pfeil/"Swiss Made" tools and those made by Lie-Nielsen/Auriou.) Somewhat counter intuitively, a V-gouge is almost never used for this type of lettering.
There are three basic shapes you need to learn for letter carving: straights, curves, and intersections. All letters in the Roman alphabet comprise some combination of those three elements, and carving a letter is usually just a matter of arranging and connecting them. Straights are cut with (you guessed it) straight chisels, curves are cut with gouges, and intersections are cut with a combination of standard and fishtail gouges.
All letters are cut with the tool roughly 30° off vertical. Each side, or wall, of the letter is cut with a separate action and they should meet in the center of the trench, which is called the root. Most basic lettering is carved along the length of a board, and this is good way to start.
If you look carefully at a set of capital Roman letters, you will notice that each letter is made from a combination of thick and thin strokes. Generally, the width of a thick stroke is 1/6 the total height of the letter. (So, a 24mm-tall I would be 4mm wide.) Most uprights are made of thick strokes. Thin strokes usually have a width 1/8 the height of the letter, and are mostly used for horizontal strokes.
Wood selection
Generally, the harder the wood, the more difficult it is to carve; however, you tend to get a crisper result. Conversely, soft woods such as poplar and cedar are fairly easy to carve, but can be difficult to keep looking sharp. I would avoid pine, as the alternating hard and soft growth rings make it nearly impossible to get consistent cuts. Mahogany is generally considered the gold standard, combining ease of carving with the ability to take fine detail, but using it can present some sustainability issues. I have had good luck with walnut, white oak, pear, cherry, and Osage orange. Feel free to experiment with other woods as well.
From Fine Woodworking #275
To view the entire article, please click the View PDF button below.
More on FineWoodworking.com:
View PDF