How-To
The Secret to Better Chiseling
Take light cuts with a chisel to increase precision and preserve the keen cutting edge.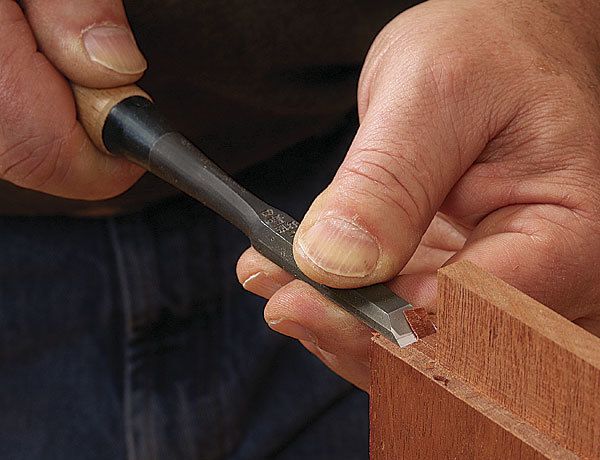 Synopsis: If you are not happy with your chisels, the problem may be in how they are being used. Even an expensive chisel won't hold an edge for long if you take heavy cuts. The chisel is a tool designed to take a thin shaving. Here you will learn how to use a chisel for maximum efficiency and how to sharpen it once the cutting edge dulls.
A lot of woodworkers I talk to aren't that happy with their chisels. And, typically, the more they paid for them, the less satisfied they are. the common complaint: "they just don't hold an edge like I thought they would." the problem is often not the chisels themselves, but how they are being used. In short, the chisel is a tool designed to take a thin shaving. When you take heavy cuts, a chisel dulls quickly. But if you stick to thin cuts, the tool will perform wonderfully and stay sharp for a long time. I'll explain why the chisel acts like it does and how to use it for maximum efficiency.
How a chisel cuts—it's all about geometry
Because the chisel is such a familiar tool in the workshop, we tend to take its shape for granted, but it's actually an odd design when you think about it. with a flat back and a steep bevel, the chisel is an asymmetrical tool that imparts asymmetric forces in use. Simply put, if you place a chisel in a scribed line in the center of a board and give it a whack, a lot of bad things happen. As you chop, the flat back wants to cut straight down, but the beveled edge gets pushed inward by the excess material. This can cause the chisel to pivot and inadvertently undercut the baseline you're trying to chop to, resulting in a gap. Finally, a heavy cut causes the leading edge of the chisel to roll over in the direction of the force, effectively dulling the cutting edge.
The solution is simply to take a lighter cut, whether paring by hand or chopping with a mallet. A thin slice offers very little lateral resistance, so the chisel edge remains engaged in the cut for a thin, even shaving. In addition, the edge of the tool will not roll over and dull in use. Note that you need a razorsharp chisel to take a thin slice, so be sure your tool is sharp before you put it to wood (see p. 83).
For the full article, download the PDF below:
View PDF