Shop Tips
Essential Hand-Tool Kit
Furniture maker Dan Faia's comprehensive list of tools is a good starting point for any aspiring hand-tool woodworker.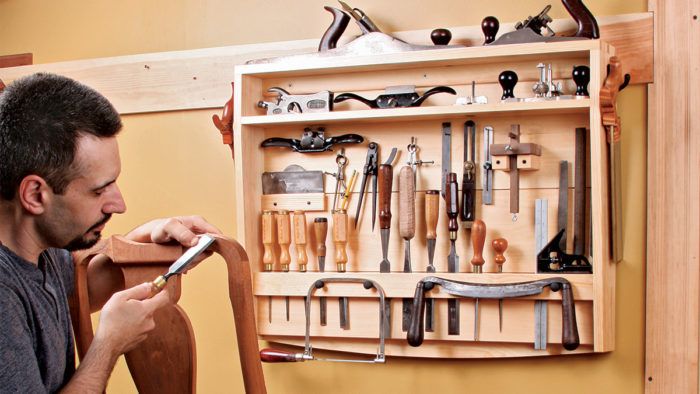 Synopsis: Whether he's teaching at North Bennet Street School or working in his home shop, furniture maker Dan Faia wants certain essential hand tools close by. As it happens, the compact tool rack also featured in this issue holds them all. Your list may vary, but this comprehensive list of hand tools for layout, surface prep, shaping, and joinery is a good starting point for any aspiring hand-tool woodworker.

---
I've done all sorts of woodworking in my career, but hand tools have always played a large role. I cannot do my best work without them. Whether working in the big shop at North Bennet Street School, where I teach, using an equal balance of power and hand, or working in my home shop almost exclusively at the bench, my set of essential hand tools is surprisingly similar.
While I was designing the compact tool rack featured in Open Rack for Hand Tools, I gave serious thought to just which tools I rely on, the ones I reach for on a regular basis. Granted, I am a period furniture maker by trade, and I probably work with more curves and carving than the average woodworker. So you might be able to get away without a couple of the items on my list. And some woodworkers will want to add a block plane, for trimming small surfaces and making shaping cuts. I prefer to handle these tasks with the other tools in my kit, but the block plane can be very helpful. To see my kit in action, turn to the tool-rack project.
Layout
Layout tools are the foundation for accurate work, helping me create precise joinery, angles, and curves. They also serve as important references for squareness and flatness.
The combination square is the primary benchmark in the shop. A machinist-quality model is accurate and easy to read. Its many tasks include measuring workpieces, checking them for flatness and squareness, laying out joinery, and setting up machinery.
At times I attach a 24-in. rule to my square, doubling its length for squaring the ends of wide boards and checking their overall flatness as well.
A traditional marking gauge uses a round pin, which can leave a jagged, inaccurate cut across the grain. Mine, called a cutting gauge, has a small, removable knife that is easily sharpened and slices wood fibers cleanly, leaving a perfect pocket to drop a chisel into for final paring. I also use it to cut inlay pieces from veneer.
Used often with the combination square, a marking knife performs the layout tasks that the marking gauge can't handle, leaving the same crisp, incised line. I like a double-beveled tip, which cuts in both directions.
From Fine Woodworking #251
To view the entire article, please click the View PDF button below.
View PDF