Book Review: Joiner's Work by Peter Follansbee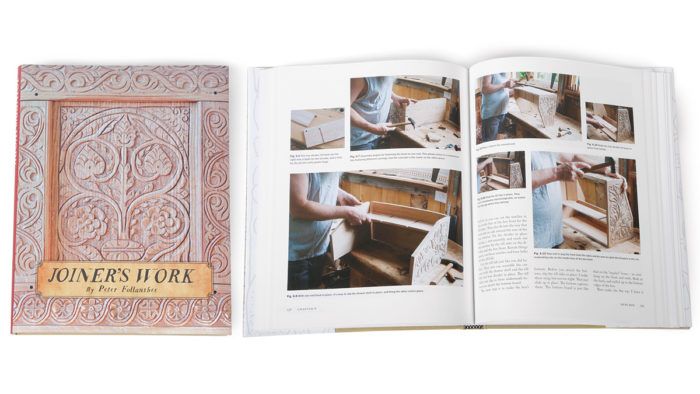 For 31 years, Peter Follansbee has focused on making 17th century-style furniture with riven oak, deep geometric relief carving, and drawbored mortise-and-tenons. He's also been a prolific writer and instructor. He's released numerous videos and articles on the tools, construction methods, and techniques that his research—both academic and shop-based—has turned up.Plus, since 2008 he's been running a blog (pfollansbee.wordpress.com) where he's covered these topics. But if you want to work or build like Follansbee, trawling through all the resources— never mind actually doing the work itself—can feel intimidating. His latest book, Joiner's Work, solves this with in-depth text and picture-rich pages.
A hallmark of Follansbee's work is that it is done entirely by hand, from the log (typically) to the finished piece. This means a lot of the tasks, such as riving, hewing, rough-milling while the wood is wet, and air-drying, may make contemporary machine-inclined woodworkers uncomfortable. But this book isn't meant only for people who prefer an ax to a tablesaw. Rather, the benefits of riven stock from quality logs are timeless. Imagine no longer worrying about grain direction. That's what riving gets you, and Follansbee shows you both how to get there and what you can do after, like expressive relief carving with a few tools.
The carving is probably the most striking element of this work and is where the book really shines. Follansbee spends considerable time covering patterns and techniques, displaying the differences between gouge work, V-tool work, geometric layouts, and freehand carving. The book leaves you well equipped not only to re-create his examples, but also to tackle other historical patterns or even come up with your own.
This isn't merely a carving book, though. Follansbee's a furniture maker, and furniture comprises the heart of Joiner's Work. The projects escalate in difficulty, beginning with two different styles of boxes before jumping to joined chests, including one with a sidehung drawer. Every project is rife with hand-tool techniques and universally useful layout tips and shop practices. Still, this is where I would have preferred a few more photos, as the descriptions of layout can sometimes get a bit dense.
While Follansbee's practices are firmly rooted in the 1600s, this book is his way of showing they shouldn't die there. As he says, the way he builds is "adaptable to so many furniture forms that it can keep you busy a long time." Joiner's Work proves there's plenty of life left in these centuries-old practices.
—Barry NM Dima is associate editor.
From Fine Woodworking #277
| | |
| --- | --- |
| | Joshua Klein's new book gives some perspective |
| | |
| | |