Tools & Materials
The Woodwright's Favorite Tools
Roy Underhill chooses his favorites from his big, quirky collection of hand tools.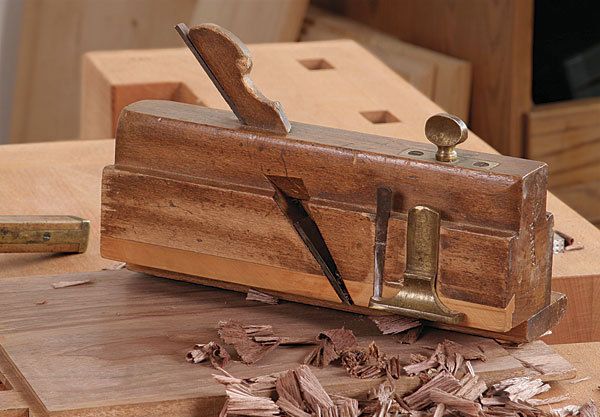 Synopsis: Roy Underhill, aka The Woodwright, has a big, quirky collection of hand tools. These are his favorites — the ones he says he'd be buried with: holdfast, scrub plane, Buck Rogers smoother, moving fillister plane, Spofford brace and center bit, drawknife and shaving horse, Disston ripsaw, and a spring pole lathe.
---
Over three decades of teaching traditional woodworking, I have adopted a big, quirky orchestra of tools—all beechwood and brass, rosewood and steel. I have great regard for them all, but I'd be lying if I didn't confess to having favorites.
All of my favorites are brilliant work partners, but each does a little bit more for me than just get the job done. I can't help but smile when I pick up an 1875 D-9 ripsaw and hear its crisp basso continuo as it carries its kerf down the length of a plank. Other tools speak to me of days of hard labor—the raw handprint worn into the beech of an old plane that is otherwise black with tallow and linseed oil.
Some of these classic hand tools are unique and some are cookie-cutter castings. Some you can buy with a card and a click, and some, like the shaving horse and spring-pole lathe, you'll have to make for yourself. Each one is a noble instrument of long service that would certainly serve you equally as well, but if I were a Viking, these are the ones I'd be buried with.
Nothing holds like a holdfast
The holdfast is a versatile bench helper. Set it in a benchtop hole, slide the work under it, give it a whack with a mallet, and all the force of the blow is captured, locking the wood to the benchtop. When your work is done, a tap on the back of the holdfast springs it free.
The delightful holdfast works as well today as it did when the venerable Joseph Moxon described it in 1678 in his book Mechanick Exercises: or the Doctrine of HandyWorks: "Its office is to keep the Work fast upon the Bench, whilst you either Saw, Tennant, Mortess, or sometimes Plain upon it."
The "sometimes plain" qualification comes from the fact that the holdfast bears down on the very surface that you probably want to plane.
From Fine Woodworking #216
For the full article, download the PDF below:
View PDF