Blog
Toolbox Show and Tell: Hammers and Mallets
Four Fine Woodworking staffers show off their favorite whacking implements in their toolboxes.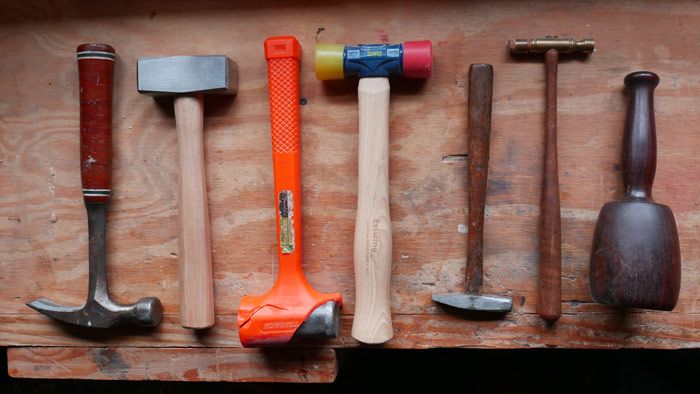 Mike Pekovich
These are the hammers that get the most use in my shop.
Dead-blow mallet—I use this all the time for assembling and disassembling parts. I never have to worry about it leaving a mark.
Japanese 13-oz. hammer—I use this with my Japanese chisels as well as when I'm driving pins.
Lump hammer— I like this for driving stock through a dowel plate where the extra mass is useful.
Claw hammer—I pull this out for any metal-on-metal work such as setting nails or using a center punch, number punch, or circle punch.
Small tack hammer—As the name implies, it's nice to have around for driving brads and tacks.
Ben Strano
Like Mike, I've assembled my favorite whacking implements.
16-oz. Estwing Claw Hammer—This lives in my toolbox for working on the house. But I am certainly glad that box lives in the shop. I mostly use it with a punch for setting nails.
Crucible Lump Hammer—It's extravagant, but it's beautiful. I use it for persuading two parts together or apart. Other than putting a smile on my face, it doesn't do anything a small sledge can't.
16-oz Dead-blow—Don't use these in extreme cold… and now you know what the inside of a dead-blow looks like! One day I'll bite the bullet and buy a new one, but for some reason I can never justify it. This one will limp on for awhile.
Estwing Double Head Mallet—I mostly use this for fretting ukuleles, but I have been grabbing it often when I need to hit something and leaving marks isn't an option.
Vintage tack hammer—I always thought this was a small machinist's hammer, until I read what Mike wrote above. Oh well… I use it all the time for delicate tasks.
Lee Valley plane hammer—I used to keep this one on my apron and it saw constant use–from moving a stop block a quarter of a millimeter to actually adjusting a plane iron. Now that it's stored on the wall, I rarely use it. I need to put it back on my apron!
Carver's mallet—Chris Gochnour gave me this mallet a couple of years ago. I really only use it when I'm chopping dovetails, but like the others, it always puts a smile on my face.
John Tetreault
The hammer is one of my favorite tools. A good one works like a natural extension of your hand. Really, it's what you would do with your hand, if it didn't hurt.
Here's a photo of my favorites from the shop. Starting at the top and going clockwise:
Maple mallet—Based on my first woodworking mallet—a Crown Tools 20-oz. Beechwood mallet—I made this one from curly maple and added leather to one side to knock together joinery.
Marble sculpting hammer—Made by Demetris Hatzis in Tinos, Greece. He put a few different ones in my hand and nodded his head when I held this one. The olivewood handle is rough and wears to your hand as you use it. It's designed for marble sculpture, but I use it for woodworking whenever I can find an excuse.
Hammer—The one you see a picture of when you look in the dictionary. I bought this at a hardware store when I first got married. Solid oak handle and a 20-oz. head. This one probably has the most miles on it.
Estwing 16-oz. claw hammer—Great for tapping in wooden pegs or finish nails and the leather handle feels great.
Nooitgedagt carpenters mallet—There's not much of a story on this one. I can't remember where I got it and have rarely used it, but I like it. I think it will be great for knocking in pegs on a timber-frame project I hope to finish one day. I looked it up and it's made in Holland.
Some kind of plastic mallet—I used to use this for knocking together joinery when I didn't want to dent surfaces too much, but it actually dents surfaces too much. I think it may have gotten harder with age. Since adding leather to one side of my Maple mallet (#1), this one has been collecting dust.
Small ball-peen hammer—When I add hammered copper details to projects, this little guy makes just the right size dimples. I think it's about 6 oz., or maybe 8. It's also my 6-year-old daughter's favorite when she's in the shop knocking things together. Its last use: hammering countless finish nails into the top of a 4-in.-round piece of pine (painted purple) to represent candles. A tiny birthday cake for her mom.
Bronze Magnetic Hammer—Used for upholstery tacking with one side having a magnetic tip. It's not used very often but excels at its job, and I like that it's made out of bronze.
Barry NM Dima
These aren't all my hammers, but they are my most-used ones.
Lixie 200L dead-blow mallet— Sure, I use it as a dead blow, where its extra leverage is a huge boon. But it's main purpose is to quietly smack holdfasts in my apartment wood shop so I don't annoy the neighbors. Thanks to Brendan Gaffney for recommending the brand. I snatched one as soon as I saw it in a local second-hand shop.
Japanese hammer—Got this one off of eBay. Ended up replacing the jacked-up handle with an admittedly clunkier one. It's my all-rounder. Although recently, I've come to love it for chopping, especially mortises. It's tied for my most-use mallet, along with my…
Carver's mallet—Like Ben's, this was a gift from Chris Gochnour. It's masterfully balanced and fantastic to use for all smacking. I even like it for my more delicate carving. And just like it does for Ben, this mallet makes me smile every time.
Joiner's mallet—One of the first tools I made, and you can tell. It's being phased out—the rope handle sometimes slips around the dowel within—but for wood-on-wood wailing, I still grab it. Nostalgia, man.
Wood Is Good MA-20 mallet—This one's my go-to for heavier carving. It's length translates to extra swing, and the size of its head proves helpful. I've tried slimmer, all-wood ones, and they just don't do it for me.
Wee cross-peen hammer—The handle's kind of loose and the head's cocked at the wrong angle, but I don't care. It was my grandfather's, and it's handle is too wonderful for me to lop off and try to remake. It's perfect enough for the small tasks I use it for.
What smashers do you have in your tool cabinet? Share your collection below!