Shop Tips
Make Your Own Plane-Adjustment Hammer
Use a black-iron T-fitting and a square-head brass plug to fashion a hammer for adjusting plane irons.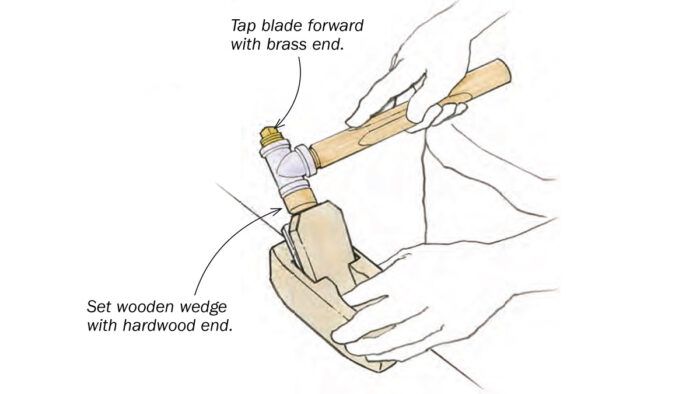 If you use wooden planes you'll need a hammer to adjust them. Here's how to make one with a hardwood end for setting the wedge and a brass end for adjusting the iron—all for under $20. You'll need a black-iron T-fitting for 1/2-in. pipe, and a 1/2-in. square-head brass plug. To make the wooden end of the head I turned a square piece of hardwood down to 1-1/4 in. dia. to match the outside diameter of the T-fitting. Then I turned 3⁄4 in. of that end down to 13/16 in., which let me screw it into the end of the T—where it threaded itself as it went in—and then sawed it off to length. I did the same thing to create the hardwood handle, shaping the handle a little to suit my hand.
—DAVE SUTTER, Greenwood, S.C.
Illustrations by Dan Thornton
From Fine Woodworking issue #293