Tools & Materials
What to Look for in an Adze
Learn how to choose, maintain, and use an adze to quickly hog away green wood and form pleasing curves.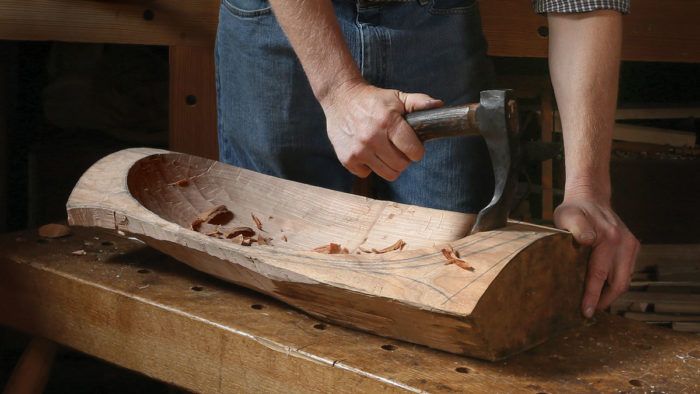 Synopsis: If you're looking to remove a lot of material quickly, don't overlook the adze. At its essence a carving gouge that you swing, an adze is a versatile and efficient tool when you understand how to use it. Here, David Fisher explains how to choose, maintain, and use an adze to quickly hog away green wood and form pleasing curves, whether you are carving the inside of a bowl or shaping the crook of a spoon.
---
A good adze is a versatile tool capable of removing wood quickly but also with nimble sensitivity. This traditional tool can be right at home in today's woodshop. In a sense, an adze is just a carving gouge that you swing. But a good gouge is easier to find. Some blacksmiths produce excellent adzes that work right out of the box, but lately, demand is such that the wait list is often long. The wait is worth it for a tool that will serve lifetimes. Meanwhile, you may find an adze that's usable with some thoughtful adjustments, and all adzes may benefit from some tuning to suit your work.
Understanding a few key concepts can help you tune and maintain an adze so it will be a deft extension of your hand. There are many styles of adze for a wide variety of purposes. While this article focuses on a European-style adze typically used for hollowing bowls, many of the concepts apply to other styles.
Start with the hang
Let's get a handle on the hang first, meaning the length and shape of the handle and its orientation to the head. The cutting edge of any adze should be in line with the outer arc of the swing. While there are many variables, the general idea is that, with a natural swing, the cutting edge should enter the wood sweetly and cut efficiently. If the hang is too closed, then the outer bevel will slam against the wood with each stroke. The adze will still cut, but there is probably room for improvement. You and your aching wrists may be eager for it.
To understand the hang of a particular adze, consider the location of the pivot point. This can get a little muddy, because it varies depending on the style and configuration of the adze and how it is swung by an individual user. But in practice, it need not be complicated. For example, in the case of a typical short-handled bowl-hollowing adze, the ideal swing rotates the head around a point near the end of the handle. A swell at the bottom of the handle facilitates this motion while assuring a secure hold that doesn't require a death grip. In use, the adze should not be pushed into the wood by stiffly swinging, but rather flung into it around this pivot point.
David Fisher swings his adzes in Greenville, Pa. Photos, except where noted: Barry NM Dima
From Fine Woodworking #285
To view the entire article, please click the View PDF button below.
---
View PDF