How-To
Get the Most from Your Bench Chisels
Chris Gochnour demonstrates basic chisel techniques for these versatile tools.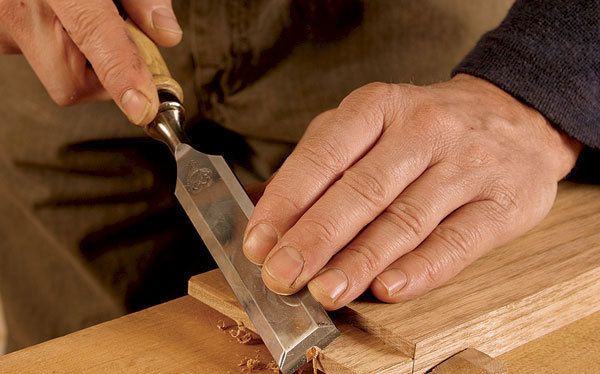 Synopsis: They've been used by generations of woodworkers and are still one of the most versatile hand tools in the shop. As Chris Gochnour explains, chisels are invaluable whether you want to hog out lots of material or pare away microscopic shavings for a perfect dovetail joint. Here, he demonstrates basic chisel techniques for squaring a corner, cleaning up a mortise, chopping a hinge mortise, trimming tenons, and cleaning up dovetails.
Among the longest-used and most rudimentary of tools, chisels are just as useful in today's woodshop. They are extremely versatile—capable of coarse, moderate, or refined work—and come in a dizzying array of shapes and sizes (for more on chisel styles and their intended uses, see FWW #181, pp. 46-53).
To help you understand where and how to use a chisel effectively, I'll demonstrate a variety of chisel techniques, from heavy stock removal to fine paring techniques on joinery, using a set of standard, bevel-edge cabinetmaker's chisels.
Clean out a drilled mortise
One way to create a mortise is to drill out the waste and refine the joint with a bevel-edged chisel.
First, bore out the bulk of the waste with a bit that is 1⁄16 in. smaller than the mortise width. Next, square up the ends of the mortise using a chisel that is slightly narrower than the mortise width. Holding the chisel 90° to the workpiece and aligned just ahead of the layout mark, use a mallet to drive the chisel blade perpendicular to the grain. Take light chopping cuts, sneaking up to the line until you have a square, perpendicular mortise wall. Once the ends of the mortise have been established, use a wider chisel and the same technique on the sides. Last, use a chisel slightly narrower than the mortise width, with its bevel down, to clean out the loosened waste and to level the mortise bottom.
Square a routed corner
Using a router is an effective way to cut a rabbet on the back of a case or a frame, but it leaves rounded corners that must be squared. A chisel is the ideal tool for this task.
First, define the corners using a square and a marking knife. Next, chop out the corner, first from above, with the bevel facing in, then from the side, with the bevel facedown. In no time, you'll have a clean, square corner.
Cut hinge mortises
Bevel-edge chisels are great for the delicate work of cutting hinge mortises. First, lay the hinge in place and mark its ends with a knife. Then set a marking gauge to mark its width and depth.
From Fine Woodworking #192
For the full article, download the PDF below:
View PDF