How-To
Customize Your Carving Tools
Modify the grind of V-tools and gouges and reap big rewards.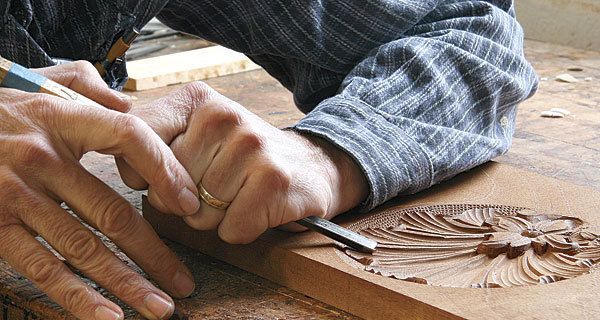 Synopsis: A rose carved with 15 cuts is better than one carved with 45. That's what Allan Breed learned from his first carving teacher. And when he bought that teacher's carving tools after he died, he realized more fully what it meant. Customized tools make carving easier and more efficient. If you grind a gouge specifically for a task that you perform over and over, that task becomes easier and your carving more efficient. Learn a few of Breed's custom grinds, give them a try, and then come up with a few of your own.
Economy of cuts. That was the only advice on carving that I ever got from my first boss, an Italian-trained cabinetmaker. I took it to mean that a rose carved with 15 cuts was better than one made with 35.
After my boss died, I bought his carving tools, and I found some that were obviously ground for specific purposes—what purposes, I didn't know. But one by one they revealed themselves over the years.
I discovered that a tool customized for a particular task is much better than a factory-ground tool, replacing many inefficient cuts with a single clean cut and producing a far better result. I now rely heavily on modified grinds in my carving. Some are extremely versatile, while others are specific to particular jobs and may see use for just a few cuts per project.
One of the most versatile and powerful of my custom-ground tools is the V-tool. Switching from a factory grind to this custom grind is like going from a VW Bug to a Ferrari. An off-the-shelf V-tool has bevels that are short and steep. To slice the wood with as little resistance as possible, I regrind them to a long, shallow bevel. This also allows me to hold the tool at a lower angle and rest my hand on the workpiece as I carve. I also regrind the tip so that the wings of the V angle forward. This way, the wings shear the grain in advance of the bottom of the V, giving me clean cuts both along and across the grain, and even in diagonal grain, where one wing of the tool is cutting with the grain and the other is cutting against it. I use this same "wings forward" grind on gouges and get the same revved-up performance. I use a related "wings back" grind on other gouges. This is useful for stopped cuts.
For the full article, download the PDF below.
View PDF