Video
Build a Simple, Sturdy Workbench, Part 1
In part 1 of this 2-part video series, learn how to build the base for the bench.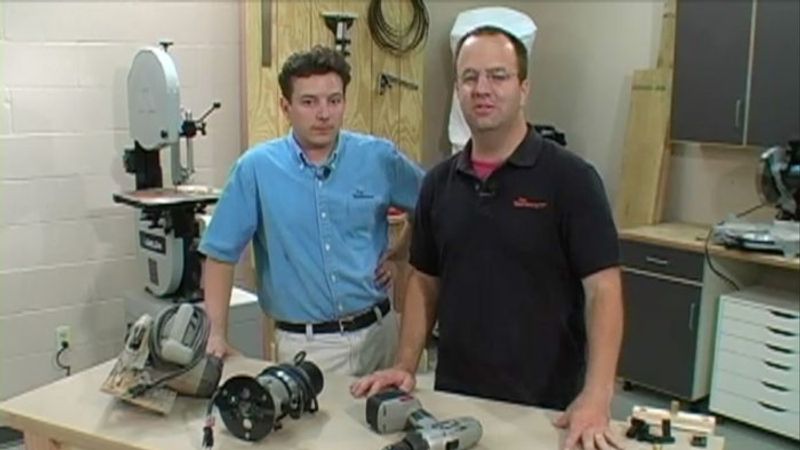 There's a catch-22 when it comes to workbenches. Every woodworker needs a good one, but it is hard to build a traditional workbench without already having… you guessed it… a workbench. In this episode of Getting Started in Woodworking, we'll show you how to build a sturdy workbench that will serve your workshop for years to come.
The design for this workbench is loosely based on one featured in Sam Allen's book Making Workbenches. We modified the joinery and dimensions, which are detailed in a measured drawing and materials list available as a free plan download.
The bench is constructed with lumber and supplies available at any home center or lumber yard. To build it, you'll need a few basic tools including a router, drill-driver, and circular saw.
Requirements for a workbench
While you can follow our measured drawing, we recommend customizing the dimensions for your bench to suit your needs.
There are two common ways to determine the height of your workbench . The first is the height of other surfaces around your shop. We designed our bench to match the height of the table saw so we could use the workbench as an outfeed support when cutting large pieces.
Another approach to sizing your bench is based on your stature; the taller you are, the taller your workbench. To determine a good height, straighten your arm against your side, aim the palm of your hand toward the floor, and measure from the floor to your palm. This height is generally comfortable for bench tasks like hand planing and routing.
Joinery and Construction
In this first episode we focus on building the base. In episode two, we construct the benchtop and attach a woodworking vise.
The base is constructed with kiln-dried construction lumber (not green lumber, which is wet and might warp as it dries). And the joinery system consists of long threaded rods, sometimes called truss rods, that fit inside the stretchers and are held in place with washers, nuts, and dowels.
We cut all of our lumber to size with a circular saw and a shopmade straight-edge jig. You can also use a miter saw or table saw if you have those in your shop. The holes for the dowels and bolt system are bored with a hand-held drill-driver. A drill press would speed up the task and provide better accuracy.
Related links
A Short History of Workbenches
Gallery of Workbenches
DOWNLOAD THE PLAN: A Simple, Sturdy Workbench