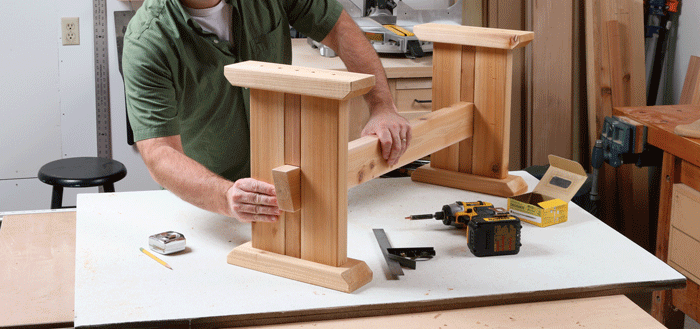 Fine Woodworking Project Guides
Beginner Projects
Build your woodworking skills from the ground up.
There are lots of classes, videos, and articles on woodworking techniques. But honestly, the best way to build your skills is to actually build projects. This guide helps begin your woodworking journey, with a variety of projects that will challenge and expand your skills, from simple step stools to lamps to bookcases. The guide also features valuable advice on setting up shop, with tips on tool choices and sharpening, along with an easy-to-build bench that will help you do better work.
Getting Started

Before you build your first project, you need a place to work, a few essential tools, and a willingness to learn and practice some basic woodworking skills. This chapter shows you how, with expert guidance on setting up shop, building a simple workbench, milling lumber, using hand tools, and making joinery choices. Sharpening is a key skill to master, and an introductory step-by-step video provides an overview of the process.

Cutting Boards & Picture Frames

Small projects like cutting boards and picture frames are a great way to master fundamental woodworking skills. These projects are something anyone can use in their home. In this chapter you will discover fun designs and learn the basic techniques for building an assortment of cutting boards and picture frames.

Gifts & Accessories

This chapter is filled with projects that will help you develop your woodworking skills, and the projects do not require an abundance of specialty tools. Learn to make a super-simple DIY doormat for your home. Discover the joy of carving spoons. Challenge your skills with clever boxes and home organizers that will give your joinery chops a challenge. Make each project as a gift for family or friends, or build them for your own home. There's no shortage of ideas here.

Bookcases & Shelves

Building a bookcase is a popular beginner project and a great way to hone your woodworking skills. In a start-to-finish project video, you'll learn how to build a handsome freestanding bookcase, with everything from buying and milling lumber through cutting and sanding the boards to creating rock-solid joints. Wall shelves have a lot in common with bookcases, and this chapter includes detailed instructions on building three types of shelves with distinctly different designs.

Step Stools & Tables

As your woodworking skills develop and you start to get more comfortable with both machine and hand tools, you'll want to challenge yourself a bit more. In this chapter you'll have a chance to do just that. With the stool projects you'll learn about pattern-routing and through-joinery with wedges. The table projects will give you more in-depth details about milling lumber, dowel joinery, surface preparation, and finishing.