Projects and Plans
Two Unique Lamps
Rings of veneer create style and ambience.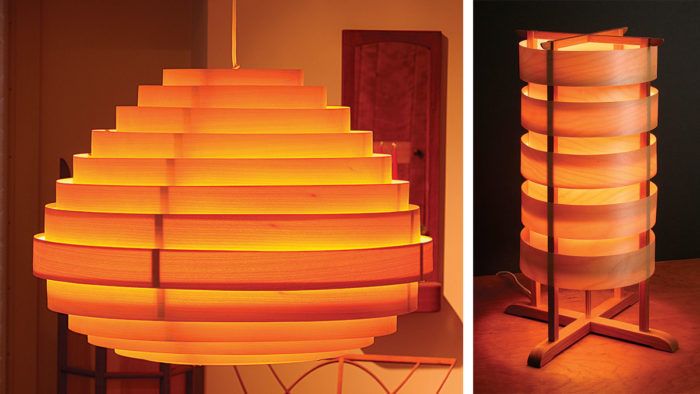 Synopsis: These handsome lamps, created with rings of veneer, will bring warmth to any room. The light shining through the overlapping rings creates a unique effect, and building the lamps is not difficult. This article details the standing version, with an alternative hanging version shown. The base and top are both crosslapped, joined by four posts. The shade is nine alternating rings of veneer. A simple formula makes calculating the length of the veneer strips easy.
---
I love the warmth of light passing through wood, and lamps made with thin veneers are the perfect way to get that effect. I've designed many hanging, floor, wall, and table lamps using a variety of veneers. Standard commercial veneers and wide edge-banding are just the right thickness, and lighter-colored woods tend to make the best lamps: birch, maple, pine, holly, white cedar, sycamore, and basswood, to name a few. This is one of my favorite designs, handsome yet easy to build, and versatile enough to work as either a table lamp or hanging lamp.
The table lamp has a crosslapped base, four vertical posts, and a smaller crosslapped top to tie the posts together. The shade is hard maple veneer rings alternating from outside to inside. I had store-bought edge-banding in my shop, which made this project easy because I used the existing width and didn't have to cut veneer strips. But you can always use full sheets of veneer and cut them to width without complicating things too much. That would give you grain continuity along the height of the lamp and open up your wood choices.
Easy joints for the base and posts
I started with the base, crosslapping the parts at the center. When I had a perfect fit, I drew the curved ends of the pieces, cut them on the bandsaw, and sanded them smooth. Also, I routed a relief on the bottoms that created four feet.
At the drill press, I drilled a hole near each end of the crosspieces and a fifth hole in the center. Next, I chiseled around the holes to make four through-mortises, leaving the center hole round to accommodate the brass tubing that holds the wire. Finally, I glued and clamped the lap joint.
The four posts are easy to make. I tackled the tenons on the bottom ends first, then on the top end, I made a centered slot to form the inside of the bridle joint.
Top pieces get crosslaps and tenons
The top is similar to the bottom, two pieces crosslapped in the center, but you don't have to cut through-mortises for the posts. Instead, cut a tenon on the ends of each piece, which forms the center of the bridle joint.
Video
Classic Woodworking: Build a Contemporary Table Lamp
From Fine Woodworking #222
To view the entire article, please click the View PDF button below.
View PDF