Blog
Hand Tools for Dovetailing
Matt Kenney shares the tools he uses to cut dovetails by hand.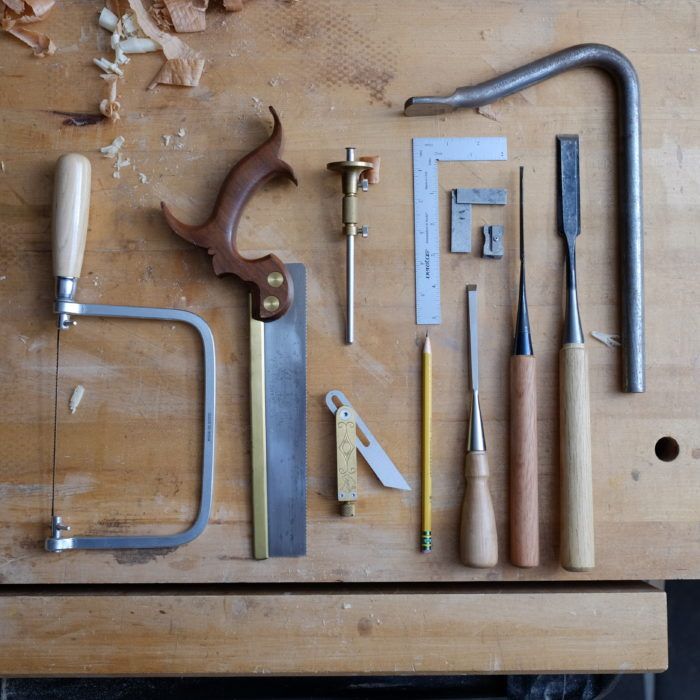 I was cutting some dovetails recently. Here are the tools that I use when I cut them with hand tools.
Coping saw to remove waste between tails and pins.
Gramercy Tools dovetail saw. I've had this for a long time. It's an old friend now.
Tite-Mark Mini marking gauge. The smaller size (compared to the standard Tite-Mark) is perfect for dovetails. The micro-adjust rocks, and makes it very easy to set the gauge to the length of your tails/thickness of your parts.
4 in. Vesper Tools sliding bevel. It's beautiful, has a nice heft, and locks tighter than any other sliding bevel I've ever used.
Dixon Ticonderoga No. 2 pencil. One of two pencils that I'll use. The other is the Paper Mate Mirado Black Warrior.
Vertias 6 in. precision square. I use this for laying out the spacing of the tails.
2 in. engineers square, for drawing straight lines across the end grain. It's little. It's cute. It's perfect for the job.
Pencil sharpener. I don't know the brand. I can't tell you were to get one. (I got them for free from a pile of stuff being given away.) It's the best sharpener I've ever used, and I have about six of them. The point is sharp, but not so acute that it breaks easily.
Lie-Nielsen bevel edge chisel for paring tail sockets. The size I use varies depending on the size of the socket.
Hand-forged Japanese paring chisel with a triangular cross section. It gets between tails, into the pin sockets, without deforming the tight corner. I had this one and another one (wider) made for me by a blacksmith in Japan. Yes, I am that far gone.
Japanese paring chisel from Japan Woodworker. It gets insanely sharp and takes super thin slivers. I use it to pare the half-pin sockets on the edges of tail boards.
Gramercy Tools holdfasts. Inexpensive but absolutely awesome. Good for clamping down boards for paring.
Veritas twin-screw vise. It's beat to hell, but works great and I would never use any other type of vise. (It's not surprising that 94% of folks with a leg vise now have a Moxon vise. The other 6% have a hand clamped in the leg vise and can't get free.
If you'd like to see more of what's on my bench, check out my Instragram feed.