Tools & Materials
User's Guide to Block Planes
Furniture maker Chris Gochnour presents the five common tasks he tackles with the handiest plane in the shop.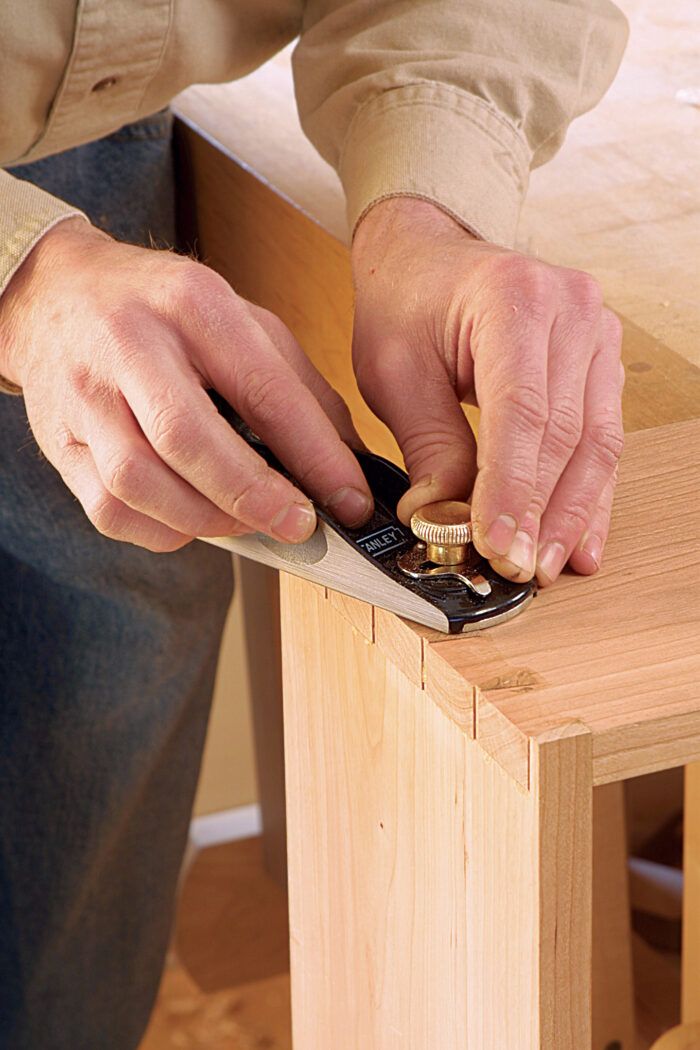 Synopsis: A finely tuned block plane is a pleasure to use, according to furniture maker and woodworking instructor Chris Gochnour. Quiet, efficient, and precise, it leaves a crisp, clean surface that no other method can rival. This article discusses many uses, including eliminating mill marks from edges and ends, shaping radii or chamfers, fitting doors, and fine-tuning and cleaning up joinery. It explains the differences between low-angle and standard block planes. Gochnour also offers a three-step process for tuning up an old block plane so it works better than new.
One of the tools I reach for most often is a block plane. With its compact size and comfortable palm grip, it is an extension of my hand. I almost always have a block plane within reach as I navigate through the diverse tasks of custom-furniture building.
A finely tuned block plane is a pleasure to use. Quiet, efficient and precise, it can slice tissue-thin shavings off end grain, leaving a crisp, clean surface that no method can rival. I use a block plane for many tasks, such as eliminating mill marks from board edges and ends, shaping a radius or a chamfer on a board's edge, and fine-tuning and cleaning up joinery. Over the years, I've refined the way I tune and use this plane, based on the tool's unique geometry and features.
Typically made of metal and varying in length from 4 in. to 7 in., block planes are ideal for planing small parts and reaching into tight areas. They can be used one- or two-handed, either pushed or pulled. The blade is bedded at a low angle—between 12° and 20°—but the bevel faces upward, creating an actual cutting angle of 37° to 45° (if the blade is sharpened at 25°). The low blade angle allows for a palm-and-finger grasp and a low center of gravity, creating a more sensitive feel and greater stability. It also puts the blade in more direct alignment with the thrust of the cut, reducing blade deflection and chatter.
Another nice feature of a block plane is that the upward-facing bevel is supported by the bed all the way to its cutting edge. This further stabilizes the blade, so it gives rock-solid performance even in harsh end-grain planing. A final attribute of many block planes is an adjustable throat. This enables you to fine-tune the plane's throat from a wide opening that accommodates a free flow of coarse shavings to a narrow slit that's capable of supporting the finest cut, leaving a smooth, tearout-free surface.
With a sharp, well-seated blade in your plane, you are ready to tackle many tasks. There are five crucial woodworking operations that a block plane handles easily. A standard-angle plane works better for some of these tasks; for others, a low-angle plane is preferable.
From Fine Woodworking #164
For the full article, download the PDF below.
View PDF