Tools & Materials
Choosing Squares
Learn why you need a 12-in. combination square and a 4-in. double square to lay out joinery, set up machinery, or check for squareness.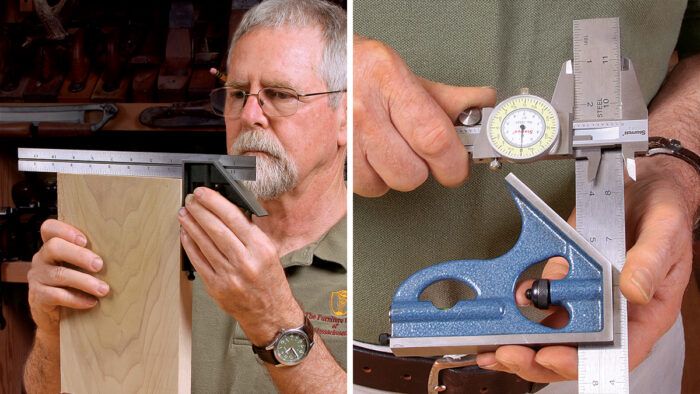 Synopsis: Keep a 12-in. combo square and a 4-in. double square near your workbench and you'll find you reach for them often, whether you are measuring and laying out parts, checking to see if surfaces are flat and square, fitting dovetails, tuning up power tools, or performing any of an infinite number of other layout and setup tasks. So Phil Lowe did a head-to-head test of both types of squares, narrowing his choices to models that passed an accuracy test and had features that are most useful to woodworkers. He scored them for accuracy, ease of use, and readability. Tested were 12-in. combo squares from General, iGaging, Johnson, Mitutoyo, Products Engineering Corp. (PEC), Starrett, and Swiss Precision Instruments (SPI), and 4-in. double squares from iGaging, PEC, Starrett, and SPI.
---
A good square is an essential tool in my shop, whether it's used to set up machinery, lay out joinery, or check for squareness. I reach for one so often that I always keep two nearby—a 12-in. combination square that hangs near my bench, and a small double square that fits in my pocket.
I don't always use them interchangeably, however. There are times when having the right-size square makes a big difference. Most often, I reach for my 12-in. combo square because it's a versatile size for measuring and laying out parts, and checking if surfaces are flat or square. But there are also many times when a 4-in. double square is easier to fit inside small spaces, like the back of a pin board. And since a double square does not have an angled head, I can use the graduations that run in both directions without removing and reattaching the blade. Having both types of squares will make your woodworking quicker, easier, and more enjoyable. But figuring out which brands to buy is trickier.
What to look for
I've had my two favorite squares for many years, but if I were in the market for one today, the choices would overwhelm me. When Fine Woodworking asked me to do a head-to-head test of both types of squares, I found at least 50 combination squares and 11 double squares on the market. So I narrowed my choices to those that would be best for woodworkers in the United States. I opted for squares with "4r" graduations (1 ⁄8 in., 1 ⁄16 in., 1 ⁄32 in., and 1 ⁄64 in.) because we use those fractions almost exclusively. I also stuck with models that had etched rules, which are easier to read than stamped-steel rules. I didn't look at models that come with more than just a rule and a head, because centering and protractor heads aren't that useful for most woodworkers, and buying them can increase the cost. And where both hardened steel and cast-iron heads were available, I opted for iron, which is strong enough for woodworking, and less expensive. For the doubles, I tested all 11 models.
From Fine Woodworking #229
For the full article, download the PDF below:
View PDF