Shop Tips
Sharpening Gouges and Drawknives with a Lapidary Wheel
Chairmaker Russ Filbeck demonstrates how he gets his drawknives and carving gouges sharp in short order.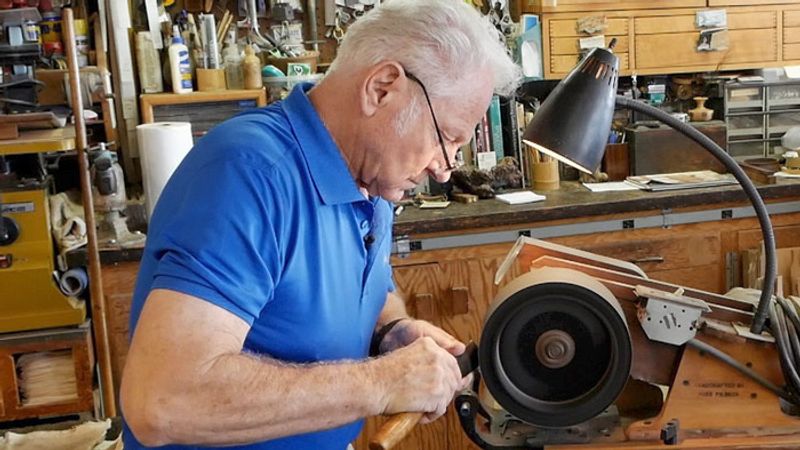 The heart of chairmaker Russ Filbeck's grinder is a 3-in.-wide by 8-in.-diameter lapidary wheel that is commonly used for polishing cabochon stones and for jewelry making. The lapidary wheel is a rubber wheel consisting of inner and outer races connected by fingers. When the wheel is idle, the abrasive belts are loose on the wheel, making it easy to switch to different grits. When the wheel is spun up to speed, the centrifugal force causes the outer race to expand, and the wheel tightens up on the abrasive belt.
When starting out with a new, unsharpened tool or an old rusty one, Russ starts with a 100-grit belt and works his way through the grits to 600-grit for the final polish. Moving through the grits is very quick because it's just a matter of shutting off the motor, sliding one belt off, sliding the next belt on, and starting the machine again.
It used to take Russ an hour to hone a gouge, and now he can do all of his gouges in an hour.
Supplies:
8 x 3-in. Rubber expanding lapidary wheel
8 x3-in. sanding belts
| | |
| --- | --- |
| | |
| | |
| | |