Tools & Materials
Shape Wood with Rasps and Files
Rasps and files are often-overlooked shaping tools that remove stock quickly and effortlessly.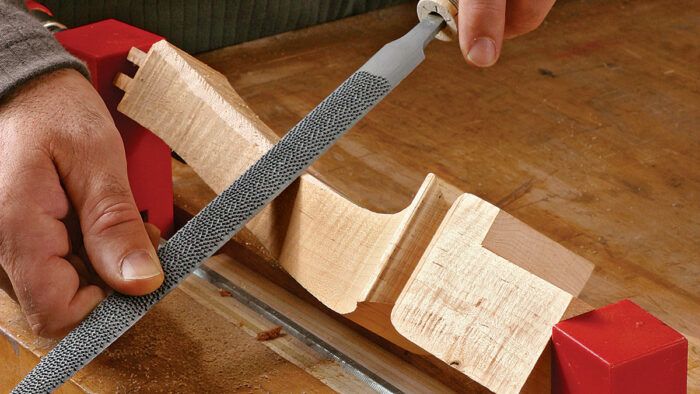 Synopsis: Rasps and files are among the most overlooked hand tools, yet they are also some of the most useful for shaping and smoothing wood. Rasps are ideal for removing stock fast without the risk of tearout. Files are used to smooth away the shaping marks left by rasps or power tools. Rifflers are small rasps that come in a variety of shapes and profiles to fit into tight spaces. Understanding the technique, maintenance, and variety of these tools will help you to get the most out of them.
---
There's probably no other group of hand tools more overlooked than rasps and files. They're humble in appearance, lacking the rosewood handles or brass fittings found on many other bench tools. Yet they are among the most useful hand tools in the shop for shaping and smoothing wood.
I use rasps and files for a variety of tasks—from shaping the fluid curves of a chair arm to smoothing the sinewy talon detail of a ball-and-claw foot. Each tool has a specific function, and the nature of the work determines which rasps and files are best suited for it. I recommend starting with a basic collection and then adding to it according to your needs. Technique, maintenance, and an understanding of the various profiles and grades of coarseness will help you get the most out of these useful hand tools.
Rasps remove stock aggressively
Like a spokeshave, a rasp is used to shape and to refine sawn curves. But unlike a spokeshave, a rasp won't catch and tear out the grain, even when working a difficult wood such as curly maple. Using a rasp requires skilled hand-eye coordination, so it's a good idea to practice on inexpensive stock such as poplar.
The teeth on most rasps are made from hard high-carbon steel, and it is the size of the teeth that determines the coarseness of the tool. The wood rasp is the most coarse, and the cabinet rasp is less coarse, followed by the fine patternmaker's rasp, which has two grades—second cut and smooth.
The teeth on a rasp can be oriented uniformly in rows or set in a random pattern. Both patterns cut aggressively, but rasps with teeth set in straight rows or columns tend to create a more ragged surface on wood than rasps with randomly set teeth. I often use the Nicholson #49 patternmaker's rasp, which has teeth that are handcut in a random pattern. The tool cuts aggressively yet leaves behind a relatively smooth surface.
Rasps are available in a number of shapes that include flat, round, and half-round profiles. The Nicholson #49 patternmaker's rasp has a half-round profile on one side and a flat profile on the other. Having both profiles on the same rasp allows me to work more efficiently than with a rasp with only one profile. If I encounter a changing contour as I work, I can just flip the tool and continue to shape the workpiece without stopping to pick up a different tool.
---
Lonnie Bird is an author and woodworking instructor. Visit him online at www.lonniebird.com.
From Fine Woodworking #175
To view the entire article, please click the View PDF button below:
View PDF