Tools & Materials
Rules for Woodworkers
Mario Rodriguez surveys tools for making precise measurements.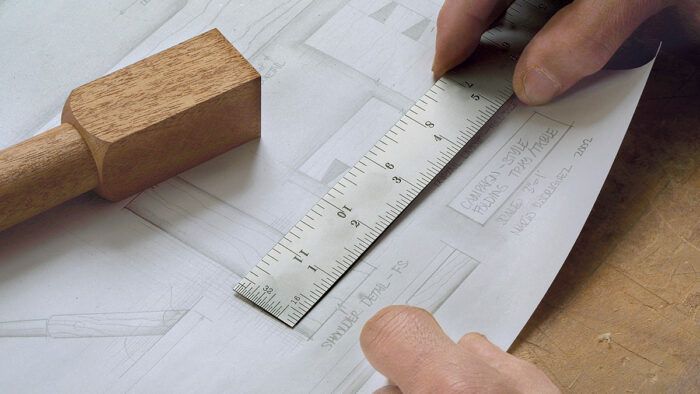 Synopsis: Precise measuring is key to fine woodworking, so having reliable, easy-to-use measuring tools is important. In addition to detailing the uses for various styles of ruler — from dimensioning to joinery — the author tests multiple rulers from various manufacturers in six categories to find each one's benefits and drawbacks. Close-up photos help show how the rulers differ and why each might be best for a particular use.
---
In the early stages of a project, the preliminary measuring can be performed quickly and casually. Cutting large sheet goods or longboards to manageable dimensions doesn't require great accuracy. But as the parts are cut to final dimensions and joinery begins, even careful measuring with a tape measure will not provide the accuracy required for smack-dab machine setups or snug-fitting joints. At this stage, a woodworker will benefit from the precision obtained from a ruler.
Basic shop rulers (the words rule and ruler are interchangeable and both in widespread use) are a varied group of short (usually 6 in. or 12 in.) strips of steel, available in different thicknesses and widths, engraved with clear, contrasting markings. Their compact size and the clarity of the markings make this group of specialized layout tools indispensable.
Besides the standard ruler design, numerous variations have been invented: There are rulers marked with perforations that accept a sharp pencil point, rulers that are triangular in the section for rigidity, rulers that are hooked at one end for better registration with the work, and rulers that have a bend down the middle to allow them to measure adjacent sides. I used each type of ruler to discover their strengths and weaknesses.
Most 6-in. and 12-in. rulers are about 1 in. wide with an average thickness of about 1⁄32 in., making them slightly flexible. The measurement graduations are usually reversed along the opposite edge and reversed again on the other side. Some rulers go down to 1⁄16-in. graduations, while others go down to 1⁄64 in.
How much accuracy you need in a ruler depends on the work you're doing. For instance, to check the accuracy of machined workpieces, graduations to 1⁄16 in. usually are adequate. Also, for this job, it helps to have a thin, narrow ruler, which allows you to check the depth of the narrowest plow or the tightest corner of a mortise. When measuring and laying out full-size details on drawings and story poles, I think it's useful to have a ruler with more precision—one with 1⁄32-in. graduations.
How much do you have to spend on a flat metal ruler? I compared the $9.89 Pec Tools 12-in. ruler to the $31.50 Starrett 12-in. ruler and found the former adequate for the majority of shop measuring tasks. However, the Starrett ruler was machined better. The edges were crisp without being sharp, and the satin finish was smooth and uniform, providing a true non-glare finish.
---
To view the entire article, please click the View PDF button below:
View PDF