Blog
Practice with Your Hand Tools so You Don't Ruin Your Project
Learn the secret to becoming better at hand-tool woodworking.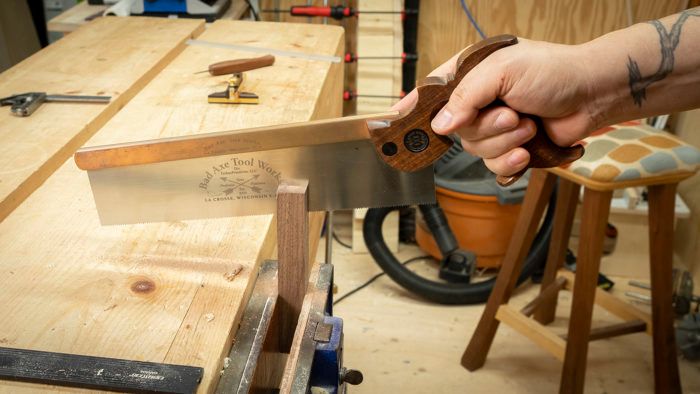 Practice. This is the secret to becoming better at a variety of different things in life. Woodworking is no different than learning how to ride a unicycle or juggling in that you need to practice, but for some reason, woodworkers don't like to. Many woodworkers routinely take a drink from the cup of "hard knocks" and get frustrated because a project got ruined or they have to make parts over again, wasting time and material. It doesn't need to be like this.
If you want to be able to saw straight to effectively cut joinery with a handsaw, then some practice is required. Go to your local home center and pick up a 1×6 of poplar. It's inexpensive and an 8-ft. length will yield plenty of practice material. Strike a depth line on the board and mark 25 or so vertical lines on it – kind of like you're going to cut finger joints.
Grab your favorite joinery saw and start sawing and be mindful of your results. Are you tracking the line? Do you feel comfortable in your stance? Are you able to stop at the depth line or are you blowing past it? Why did you blow past it? Not enough light? Not wearing your glasses? – You get the idea.
If you do this simple exercise a couple times a week, you'll be cutting straight as an arrow in no time. Cutting dovetails on a blanket chest for your mother-in-law's Christmas gift is not the time to practice cutting joinery.
Once you start cutting straight consistently, you can start to play games with yourself. Try cutting on the line, removing the pencil mark. Then try cutting beside the line, on the left or right, leaving the pencil line undisturbed. Have fun with it! Heck, post your progress on Instagram with the hashtag #sawpractice. The point is to make practice interesting. Challenge your woodworking friends to a saw-off … winner buys the beer.
You can't expect to become good at something without practice. The solution is not to buy a more expensive tool and hope for the best – this isn't golf. Ultimately you need to spend time at the bench with tools in hand. My book The Minimalist Woodworker starts off with a Papua, New Guinea, proverb that says, "Knowledge is only a rumor until it is in the muscle." Nothing could be truer when it comes to woodworking.
In order to understand you must do.
| | |
| --- | --- |
| | |
| | |
| | |