How-To
Grind Perfect Edges Without Burning
In just seconds, get a tool ready for honing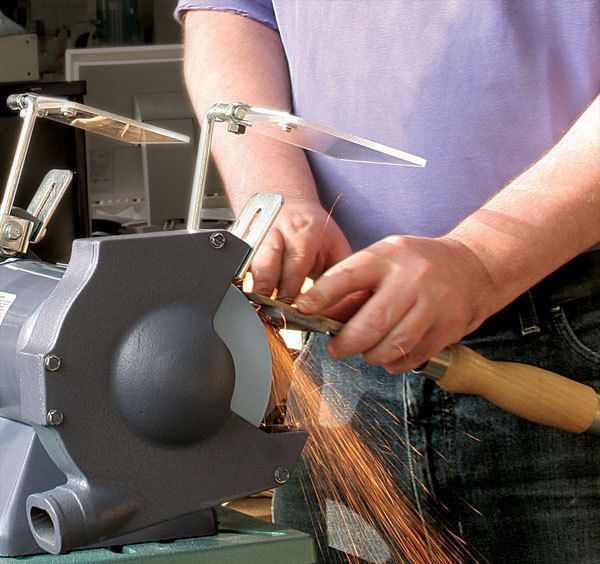 Synopsis: Joel Moskowitz used to approach the grinding wheel with dread in his heart. Then he learned this "cool grinding" technique and the once-hated chore became fast and easy, and the results consistent. His secrets? Use a friable wheel that runs cool, and dress the edge of the wheel with a slight crown. Armed with these two important tips and using Moskowitz's technique, anyone can learn to touch up a bevel, grind a new bevel, and even grind new edges on curved tools. Your chisels, plane irons, gouges, and all other edge tools will never be in sad shape again.
For years, I dreaded grinding a new edge on tools, and generally put off the task until the need was critical. I had trouble keeping the edge from burning, and the process was time-consuming. Consequently, most of my tools were in sad shape.
But two visitors to my shop changed all that. One was a friend from an abrasives company who made fun of my old gray grinding wheels and taught me a bit about wheel technology. After I had replaced my wheels with cooler-running, modern ones, my second visitor was Barry Iles of Ashley Iles Edge Tools. Barry has been forging and grinding edge tools since he was 14, and so I asked him to try out my muchimproved wheels. First he took off my fancy tool holder, leaving only the basic tool rest. Then he turned on the grinder and dressed the wheel with a slight crown. About 10 seconds later, he handed me back a perfectly ground chisel.
It took Barry only five minutes to teach me his technique, and the rest was a little practice. I was amazed. Now I hollowgrind chisels, plane irons, and all other edge tools lightning-fast, easily, and without any trepidation. Here's how I do it.
Why a bench grinder?
Bear in mind that we are talking about grinding here, not honing. Grinding is done with rougher abrasives in order to quickly establish a fresh, clean bevel. Honing is done with much finer abrasives, to create a truly sharp edge.
Although there are many grinder options on the market, my own preference is for a basic 6-in. bench grinder, the highspeed, dry-wheel type that runs at about 3,600 rpm. "Slow-speed" bench grinders are OK, but you should realize that an 8-in. version will have close to the same surface speed as my 6-in. model, despite the higher rpm, and surface speed is what it's all about. Definitely do not buy a high-speed 8-in. grinder; it will burn tools for sure.
As for the benchtop wet grinders, they are simply too slow for my tastes and a lot more expensive than a dry grinder. I don't need all the fancy jigs either. For this technique, all you need is a solid, flat, adjustable rest. This can be the stock rest that came attached to the grinder, or an aftermarket rest that clamps to the bench.
Last, I'm not a big fan of flat grinders, such as sandpaper platters. They are expensive, and worse, they deliver a flat bevel. I prefer to do freehand honing, which is faster than using a honing jig, and a hollow bevel (from a round wheel) makes it easy to rock the tool on the sharpening stone to find and maintain the bevel angle.
From Fine Woodworking #198
For the full article, download the PDF below:
View PDF