Tools & Materials
The Humble Coping Saw, a Shop Workhorse
A coping saw is a modest but versatile hand tool that excels at cutting all kinds of curves.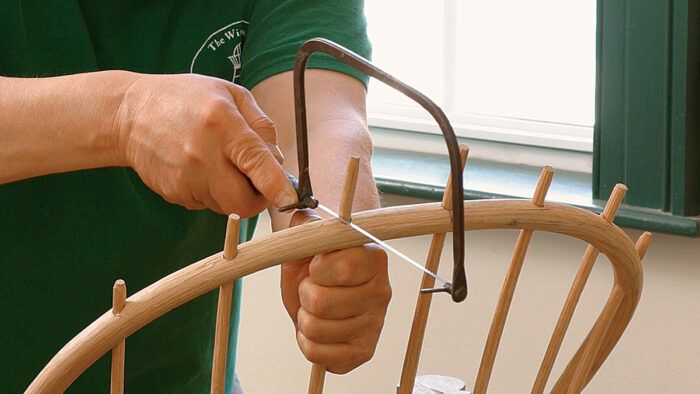 Synopsis: A coping saw has plenty of uses in the shop: cutting coped joints for molding, cutting curved parts for furniture, cutting interior shapes, trimming the waste from joinery. Michael Dunbar explains how to choose and use this simple tool. He details how to install the blade, how to hold and guide the tool for best results, and how to make coped cuts for seamless corners.
---
When I was in junior high school in the early 1960s, I had to take what was then called "Manual Training." Each student had to build a wooden tie rack for his dad. Because we were 14-year-old boys, the instructor would let us use only two tools—a rasp and a coping saw. I grew up thinking that coping saws existed only so that kids and klutzes wouldn't hurt themselves.
Not so. I use a coping saw in a professional woodworking shop every day. The saw can simply and quickly cut coped joints for molding or curved parts for furniture and other work. Its blade can be threaded through stock to cut interior shapes or worked into tight places to trim waste from joinery. All this from a tool that's inexpensive and simple to maintain. Whenever I gather my tools, the coping saw is among the first I reach for.
Choose a model with a sturdy frame
A coping saw has a C-shaped steel frame whose two arms are slightly farther apart than the blade is long. These arms pull the thin, flexible blade taut. In the end of the wooden handle and the front arm, two slotted yokes hold the blade.
The handle also holds a captive nut that loosens when the handle is turned. This allows the blade to pivot relative to the frame so that you can adjust the saw to the cutting situation. Be sure to turn the two yoke pins equally to avoid twisting the blade, and re-tighten the handle afterward.
Not all coping saws are created equal. I prefer an all-steel saw with some heft. For example, Woodcraft sells a sturdy model for $13.99 (product #141403). Cheaper, lightweight models tend to have weaker frames and poorly attached handles.
Low-quality blades also can be a problem. Some brands are not as sharp as others; some break easily. I only use Stanley blades, which are available at Ace Hardware. Coping-saw blades are made for different purposes and materials. The fewer the teeth per inch, the coarser the cut. Available sizes include 10, 15, 20, and 24 tpi. For most work, I use a 15-tpi blade.
---
From Fine Woodworking #178
To view the entire article, please click the View PDF button below:
View PDF