How-To
Seal First for a Better Finish
Choose sealers wisely for best results.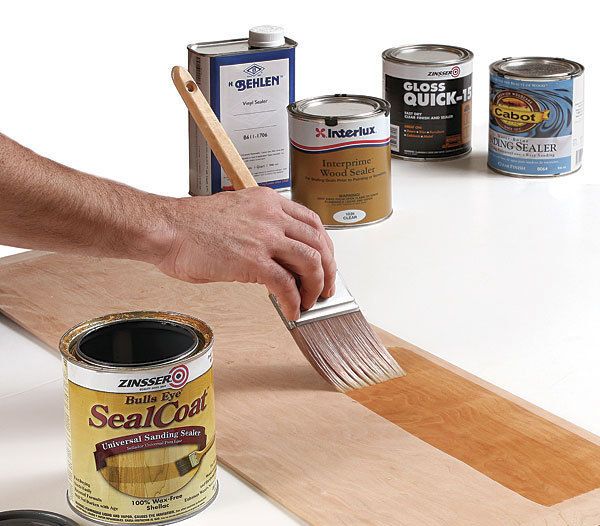 Synopsis: Sealers and their use are a source of confusion to many woodworkers, but they needn't be. In truth, the first coat of any finish will act as a sealer, penetrating the wood fibers and leaving a rough surface for subsequent coats to bond to. But clear finishes vary in how effective they are as sealers, and products sold as "sanding sealers" often are not the best solution, either. Read on to find out when to seal, what products work best with what finishes, special products for special uses, and why often your best choice can be summed up in one word: shellac.
One aspect of finishing that causes great confusion is sealers and their use. Part of the problem stems from thinking that sealers are to clear coats what primer is to paint and that all bare wood should be sealed first. In fact, the first coat of any finish acts as a sealer.
But using the first coat as a sealer isn't always the best choice—if that were the case, this would be a very short article! Clear finishes vary greatly in how effective they are as sealers, and there are many times when you should go with something else. However, a product sold as a "sanding sealer" may or may not be the solution. Now that I've got you confused, let's delve into the world of sealers. I'll make the choice for your next project easy, and your final finish will be better than ever.
When to seal bare wood
The first coat of any finish on any wood penetrates the fibers and leaves the surface feeling rough and uneven after it dries. This coat needs to be sanded smooth, to provide a good foundation for subsequent coats to build on.
Varnish doesn't sand well, so seal first—Not all types of finish sand easily, especially when applied to bare wood. Varnish tends to gum up the sandpaper and takes a long time to dry. You can overcome these problems by sealing with a coat of dewaxed shellac. However, I never use shellac with exterior varnishes. Because of shellac's brittle nature, temperature fluctuations can weaken its bond to the substrate and cause the finish to fail. In this case you have a couple of options. You can thin the varnish by 50% with mineral spirits and apply it to the bare wood. It takes longer to dry and is harder to sand than shellac, but you get a durable exterior finish. A more expensive option is a marine-grade sealer that is stearate-free, such as Interlux's Interprime Wood Sealer (jamestowndistributors.com), suitable for interior or exterior work.
From Fine Woodworking #227
For the full article, download the PDF below:
View PDF