How-To
The Hows and Whys of Dyes
Explore the world of dyes and learn why they can be invaluable tools for getting the perfect finish on your project.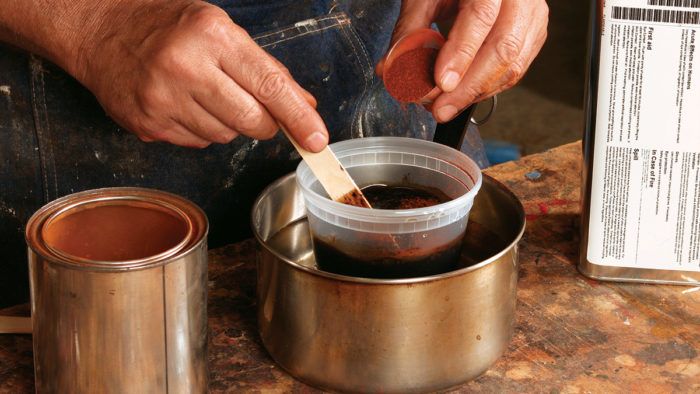 Synopsis: Professional finishers like Peter Gedrys use dyes all the time, but lots of woodworkers avoid them. This is largely because many have had a bad experience with a pigment stain. As Gedrys explains in this Closer Look, dyes and pigment stains are a world apart, and dyes can be invaluable tools for getting the perfect finish on your piece. Knowledge is power, and this look at dyes will arm you with all the knowledge you need to give them a try.
---
Dyes are an indispensable tool for a professional finisher: I use them to give mahogany that rich brown found on antiques, to enhance figured maple, and to brightly color a contemporary piece. However, many woodworkers have a deep fear of coloring wood. I'm reminded of Groucho Marx's witticism: "Die, my dear? Why that's the last thing I'll do!" In part, this comes from confusion between dyes and pigment stains. unlike stains, dyes never look muddy or hide the natural beauty of wood. With that in mind, let's take a closer look at what dyes are, where they come from, and how to use them.
What is a dye and how is it made?
For centuries, dyes were obtained from natural products such as roots, berries, insects, and nut husks. Then in the mid-19th century, William Henry Perkin discovered how to make a synthetic purple dye from aniline, an organic compound derived from coal tar. This was a giant step forward: There was now an inexpensive method to mass-produce dyes. Today, most dyes are derived from crude oil but the term aniline is still widely used.
Many woodworkers think that dyes, like stains, are simply finely ground pigments, but this is not true (see facing page).
Although you can buy dyes already dissolved, powders offer the widest range of colors and are the most inexpensive option. you also have full control over the color strength by adding powder or diluting the solution.
The three main dye groups associated with woodworking are acid, basic, and solvent dyes. The water-soluble dyes are, for the most part, the acid group, and the alcohol dyes are the basic group. The solvent dyes are soluble in a variety of oil solvents from mineral spirits and naphtha (aliphatics), to xylene and toluene (aromatics), to acetone and lacquer thinners (ketones).
So much for chemistry. Which dye is right for your project?
Water-soluble dyes work for most needs
Water-soluble dyes account for roughly 70% of Lockwood's sales (see below) and there are good reasons for you to focus on them, too. They dissolve easily in warm water, have no odor whether dry or dissolved, and resist fading. They are best applied to new wood and are suitable on any species, but particularly dense-grained species such as maple, cherry, or poplar.
From Fine Woodworking #217
To view the entire article, please click the View PDF button below.
View PDF