How-To
Great Results with a Belt Sander
It's noisy and it's dusty, but in a pro shop like Chris Becksvoort's, it's hard to beat the belt sander for producing great results quickly.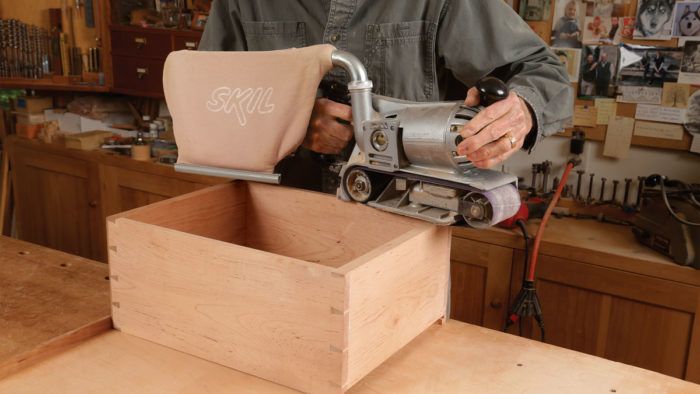 Synopsis: It may be noisy. It may be dusty. But in a pro shop like Chris Becksvoort's, where time is money, it's hard to beat the belt sander for producing great results quickly. Whether you're looking to flatten a panel, get rid of tearout, sand the surface and edges of curved parts, fit a drawer to a case opening, or shape a table leg, don't be afraid of the belt sander. It will save you time and effort.
---
The plane vs. belt sander debate is likely to continue indefinitely. What it boils down to is process vs. product. Let's face it: Neither the wood, nor 99.9% of customers care which you use, as long as the results are the same. Personally, I much prefer to use a handplane, but I have a business to run, and it's all about efficiency, not personal gratification. In my experience, the belt sander, though noisy and dusty, is faster and less laborious. I can achieve results that are every bit as presentable in way less time.
Sanders are workhorses in my business. When I start a new case piece, I glue up the panels and take them to a local cabinet shop to use their wide belt sander. In under a half hour, I have all my panels sanded to 150 grit, and at a consistent thickness. Back in the shop, I'll belt sand to 180 or 220 grit. Then I'll use an orbital sander to 320 and 500 grit, hand-sand with those grits, and finally buff with 0000 steel wool. But let's concentrate on the belt sander.
Like a handplane, the sander can smooth a surface, or do a lot of damage if you're not careful. Both tools require practice and experience to know their subtle nuances. Practice on scrapwood until you're comfortable. It's worth noting that even though I rarely use plywood, I will use a belt sander only on Baltic-birth plywood, with its thicker veneers. Regular plywood's outer veneer is too thin to risk belt sanding.
My sander is a Skil model 449. I bought it in 1980, and it's still going strong. Sadly, it was discontinued in the early to mid-'90s.
Start with flat panels and edges
Most often, I use the sander for flattening and smoothing solid stock. Bumps and twists can be taken out with a 40-, 60-, or 80-grit belt, depending on the severity of the problem. The belt sander is also great at getting rid of handplane tearout on both panels and edges.
From Fine Woodworking #277
To view the entire article, please click the View PDF button below.
View PDF