How-To
Make a Simple Spray Booth
Inexpensive foldaway booth lets you safely spray indoors.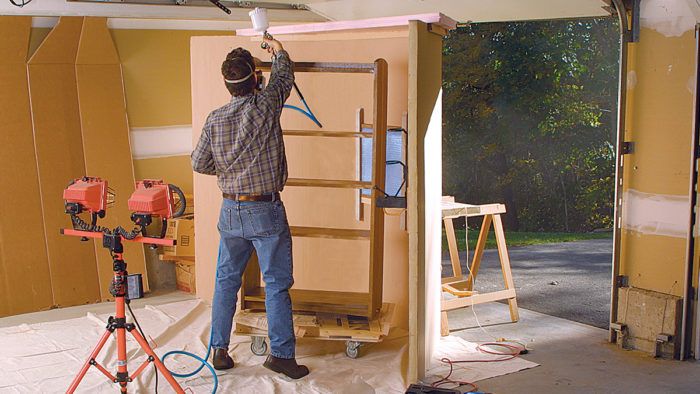 Few woodworkers can afford a purpose-built spray booth, especially one that meets health and safety codes for spraying solvent finishes. At the other extreme, waiting for a fine day and spraying outside also is fraught with problems. The wind blows the spray back in your face, and every bug in the neighborhood dive-bombs the wet finish.
The spray booth here should cost less than $200 and will allow you to spray indoors in a controlled environment. The booth is designed just for water-based finishes, however. I advise you not to spray flammable materials indoors unless you have a dedicated room outfitted with an explosion-proof fan and explosion-proof lighting fixtures.
---
More Spray Finishing Tips and Techniques:
How to Apply an Aerosol Finish
Spraying Three-Dimensional Objects
---
The booth design

When spraying indoors, it's important to evacuate the overspray produced by the gun, not only for health reasons but also to prevent the atomized overspray from settling on your furniture and creating a rough surface. The booth shown below accomplishes that.
Cut a hole in the center panel about 30 in. off the floor. Slide a furnace filter in front of the hole, and rest a box fan on sawhorses on the outside. Use a cheap, open-weave filter. The more expensive kinds designed to trap minute particles will get clogged with finish too quickly.
When spraying, you will require bright lighting in the booth to differentiate between wet and dry areas. I like to use halogen work lights on a tripod.
The 4-ft. by 8-ft. foam panels can be cut easily to fit any location. When folded for storage, the booth is less than 2 ft. deep and light enough to be carried by one person.
Photos: Mark Schofield. Drawings. Vince Baback