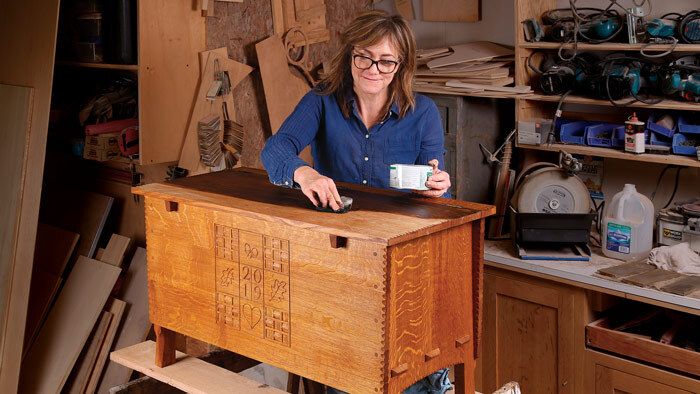 Fine Woodworking Project Guides
Finishing
Choose and apply the perfect finish for your project.
With so many finish options and so many ways to apply them, how do you pick the most appropriate one? In this Guide you will get all the information you need to make an educated choice. Get expert information about all the different finish options and the differences among them. Discover the importance of surface preparation. Get advice on when to wipe, brush, or spray. Access dozens of time-tested finish recipes so that you can experiment to find the perfect match for the piece you've spent so much time building. Finally, learn how to fix mistakes seamlessly and without headaches.
Finishing Basics

So why do we need to finish wood, and what do all those strange finishing terms mean? That's a good place to start, and this introductory chapter provides all the background information you need before your finishing journey begins. We'll give you a top-level view of all the types of finishes available, including how to maximize their shelf life. You'll also find advice on setting up your finishing space, as well as essential guidelines on fire safety when storing and dispensing finishing products.

Tools & Materials

You don't need a lot of fancy application tools if you're finishing wood by hand. A selection of brushes, some rags, cloths, and pads, and that's it (we'll save tools for spray finishing for a later chapter). You'll learn what brushes work best with different types of finish and how to take care of your brushes. We'll also share some foolproof techniques for brushing on a perfect finish, tips from the experts on holding parts while finishing and drying, and advice on the safety equipment you need to wear.

Sanding & Surface Preparation

The quality of any finish depends to a large extent on how well the surface of the wood is prepared. In this chapter, you'll learn the best ways to prepare wood for finishing using both hand and machine tools. There's expert advice on the benefits of hand-sanding, planing, and scraping as well as tips for achieving a flawless surface with power sanders. Sealers and fillers also play a part in preparing the surface of the wood for finish, and this chapter will help you understand how and when to use them.

Coloring Wood

Color can make a run-of-the-mill wood attractive or transform a figured wood into something spectacular. In this chapter, you'll learn how to choose, mix, and apply dyes and stains to add color to your project, and you'll also discover the great effects you can achieve with milk paint and other painted finishes. The chapter concludes with advice from the pros on some less common ways to change the color of wood, including ebonizing and oxidizing, fuming, and gilding.

Finish Types & Waxes

In this chapter you will learn all about oil- and water-based finishes. Discover the differences between the two, learn when and where to use them, how to brush and wipe them, and get time-tested tips on how to get professional results with either one. You also have the chance to experiment with a variety of recipes to find the best match for your custom work (more finish recipes can be found in Shellac & Other Finishes). You will also learn all about wax: the different types, how to apply them, and how to color them.

Spray Finishing

Spray finishing used to be reserved for professional shops with the space for the equipment and the need for a speedy, high-quality finish. Not anymore. There are plenty of spray options for home shops that are compact and affordable, allowing hobbyists to get professional results quickly. This chapter will guide you through the options and provide plenty of tips on choosing and using a sprayer. You'll even discover the potential of using aerosols in your work.

Shellac & Other Finishes

Shellac is a versatile, attractive finish option for woodworkers. It works equally well as a sealer or topcoat, and is available in many forms: you can buy it premixed or mix your own, and you can choose colored shellac to impart different tones to the wood. In this chapter you'll learn all about shellac, from mixing to applying it. In addition to shellac, you can check out more than a dozen other great finish recipes that will make your work shine.

Repairs & Refinishing

It's pretty easy to make a finishing mistake, but it's not always easy to repair that mistake. If you're not careful you can quickly make it worse. In this chapter you'll get expert advice on how to fix any mistake seamlessly as well as how to avoid mistakes in the first place. You'll also get a pro's take on how to refinish furniture from start to finish, helping to bring an old piece back to life.