How-To
Seal Your Project with Dewaxed Shellac
Finishing pro Jeff Jewitt explains which shellac sealer to use.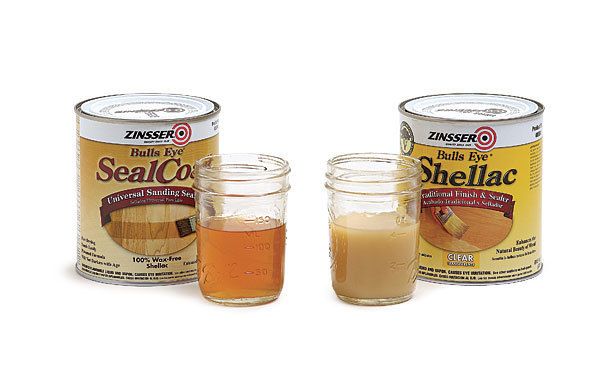 Q:
Is there any difference in the sealing properties of Zinsser's SealCoat (dewaxed shellac) and regular Bulls Eye shellac? I have had trouble finding SealCoat. Can I use regular shellac as a sealer instead?
Mike Smith, Seneca, SC
A:
Both of these products seal the wood equally well, but some finishes won't stick to regular shellac. Both amber and clear Bulls Eye shellac have a natural waxy substance that interferes with the adhesion of oil-based polyurethane and water-based finishes. To address that problem, Zinsser created SealCoat, a dewaxed shellac, meaning it has the wax removed. That's why you see SealCoat advertised as a "Universal Sanding Sealer" on the can.
A representative at Zinsser told me that although they are still producing SealCoat, a poor shellac crop has driven the prices up, and many customers have turned to cheaper alternatives. As a result, some stores have stopped stocking it. But SealCoat is still available at specialty woodworking stores and through online retailers.
If you are using nitrocellulose lacquer or oil-based varnishes other than polyurethane, such as Waterlox or any alkyd varnish, you can safely use the waxy amber or clear 3-lb. cut. If you're using oil-based poly or any water-based finish, stick with SealCoat. If you're up for it, you can also mix your own shellac using dewaxed shellac flakes. Just make sure to use blond or super-blond to avoid darkening the color of the wood.
Photos: Staff
More from FineWoodworking.com: