Versatile Shellac
No other finish seals and colors wood quite like shellac does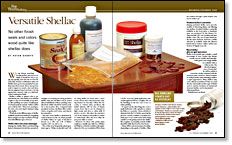 Synopsis: Professional finisher Peter Gedrys breaks down the mysteries of shellac the wide varieties available, what types to use, which form is best for which wood, and more. He also shares a color guide to enhance or correct various wood grains. Gedrys simplifies what can seem like a dizzying array of shellac finishing choices, from dry to premixed or dewaxed. The article also lists supply outlets and shows how to use various application tools properly to avoid unsightly beginner mistakes like sags and runs.
From Fine Woodworking #166
We are always searching for that perfect one-stop wood finish: It should be easy to apply, dry quickly, and color the wood at the same time. Modern combination stains and finishes have grown in popularity because they meet these needs. But to my eye they tend to impart too much color, and those that are pigment based can leave a cloudy appearance. Instead, I rely on a tried-and-tested combination finish.
Shellac's ability to impart color is unmatched by any other finish: It can add fire or glow to the wood naturally. In my classes, after padding out a piece of mahogany, I've heard students remark, "I didn't realize you could do that." They were reacting to the rich color and depth obtained using only shellac.
I'll talk about the different types of shellac available and the best methods of applying them, and give you tips on which colors go best with different types of wood.
Buying dry shellac flakes and dissolving them in denatured alcohol has several advantages over buying and using premixed shellac. First, the dry flakes can be stored almost indefinitely without spoiling (once dissolved, shellac should be used in as little as six months). Also, compared with premixed versions, dry flakes offer a wider choice of grades and colors, and they're less expensive.
The ratio of dry shellac to denatured alcohol is known as the cut. Three pounds of shellac flakes in 1 gal. of alcohol is known as a 3-lb. cut, 2 lb. of flakes equals a 2-lb. cut, and so on.
One of the most frequently asked questions I get is, "What cut should I use?" After using shellac for many years, I don't worry about exact measurements, relying instead on viscosity. I liken the viscosity to various dairy products: My initial mixture will be that of heavy cream; from that it can be thinned to light cream and then to skim milk. If you're a novice, this takes the exactness out of the equation and makes it easier to understand. After all, how often do you pour milk or cream?
For the full article, download the PDF below.
View PDF