How-To
How to Remove a Shellac Finish
Spilled liquor has ruined your tabletop? Learn how to remove the shellac for a clean repair.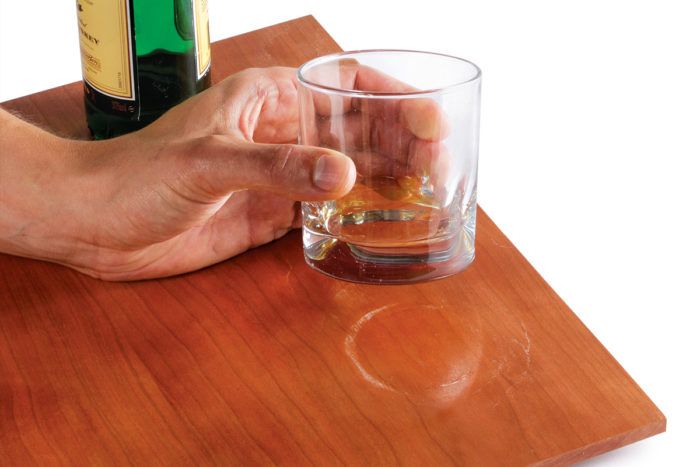 Q:
Spilled Scotch ate away the shellac on my table. What's the best way to fix the finish?
Don Hayes, Ames, IA
A:
For small or minor blemishes with alcohol, you can try blending in a new coat with a pad, but the best solution is simply to remove the shellac from the entire top and refinish it. Fortunately, shellac is easy to remove. Place doubled-up paper towels on a section of the top and saturate them with denatured alcohol. Smooth out any bubbles and then cover the paper towels with newspaper or plastic to slow the evaporation. After about 10 minutes, roll back the paper towels and wipe off the loosened shellac. Repeat until all of the shellac is gone, then refinish the piece. Water rings are a different deal, involving moisture trapped in the finish. To release it, simply dampen a pad with alcohol, rub lightly, see if the ring disappears, and repeat as necessary.

Dissolve it all. Doubled-up paper towels soaked in denatured alcohol will remove the old finish. Cover the soaked towels in plastic to prevent the alcohol from evaporating before the finish dissolves.

Wipe it off. Use the alcohol-soaked paper towels to rub the remaining shellac from the surface