How-To
How to Revive a Finish
Don't rush to strip; a simple cleaning and renewal can work wonders.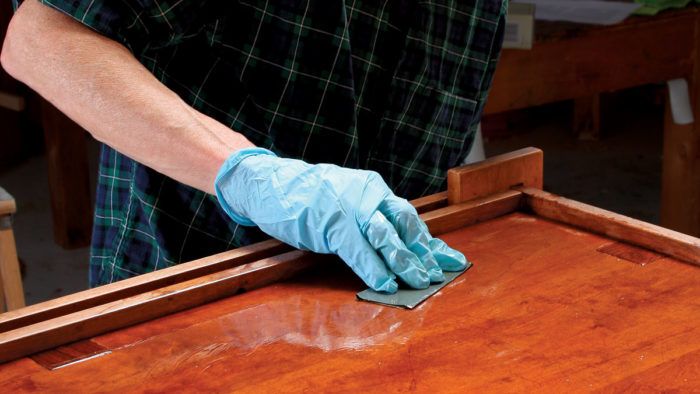 Synopsis: A worn or damaged finish, whether it's on a flea-market find or a piece you made years ago, doesn't always need a complete stripping and refinishing. Take it from a pro — you can revive a finish rather easily once you know what you are dealing with. Jeff Jewitt shows how to identify the finish on your project and whether it is a candidate for stripping or an easy rejuvenation. Then he takes you through the steps for different finishes, whether that involves a thorough cleaning, wet-sanding and replenishing an oil finish, or sanding and reviving lacquer or shellac.
---
Stripping a piece of furniture must be the nastiest finishing task. Not only are the fumes unpleasant, but it's messy and requires cumbersome safety equipment. Yet for many, stripping is the first thing that comes to mind when they see a piece of furniture whose finish is worn or damaged. However, stripping is the nuclear option of refinishing.
In many cases, if the finish is just worn but still in good shape, you should consider cleaning and reviving it. This approach is used extensively in the antiques and museum trades and uses simple materials and surprisingly few tools.
I'll show you several no-strip methods for refreshing different kinds of finish. I'll discuss which finishes respond well and which don't. Go ahead and experiment on an old piece. You'll most likely be amazed at the results, but if you aren't, you can always strip it afterward without having invested a great deal of time.
Evaluate the damage and determine the finish
Woodworkers usually get to finish new furniture, but there are a couple of reasons why it is good to know how to refinish a piece. The finish on your early creations may have deteriorated; or perhaps you own an heirloom or two, or couldn't resist a fleamarket bargain. The first step is to see if the finish has damage that puts it beyond reviving (see photos at left).
If it looks like a good candidate for reviving, the second step is to see what type of finish you're dealing with, because this determines the method. The best finishes to clean and revive are old oil, oil/varnish, shellac, and lacquer finishes. The first two types are generally wipe-on, penetrating finishes with little to no surface build and will have a flat, dull look when old. You may even have applied them yourself when you built the piece.
With a film finish, test to see if it is lacquer or shellac (above). If the finish responds to neither solvent it is probably oil-based polyurethane, a waterborne finish, or a high-tech catalyzed finish, none of which revive very well. However, you can still put these finishes through the two-step cleaning process explained below.
From Fine Woodworking #228
For the full article, download the PDF below:
View PDF