Projects and Plans
Modern Dining Table
Phillip Morley creates a table with subtle lines and details for any home.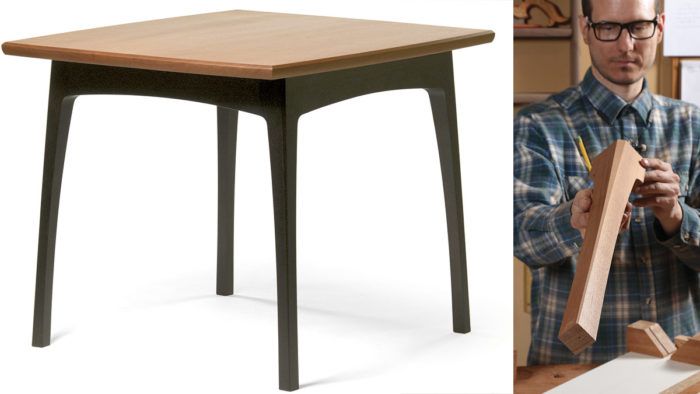 Synopsis: Tapered, splayed legs that transition into curved aprons, a clear-finished mahogany top with a contemporary profile, and an ebonized base—these are the stylish elements that make up Philip Morley's dining table. For all its sophistication, this table is not difficult to build. Construction includes mortise-and-tenon joinery and the use of templates to dial in the curved parts.
---
Designed to seat four, this table would fit nicely in a small dining room or kitchen. Because its design is uncomplicated, favoring clean lines and gentle curves over ornamentation, it will complement just about any style of decor. The mahogany top, with its curved sides and crisp edge profile, is clearly contemporary, and the ebonized base also has a modern appeal.
The splayed legs are attached to the aprons with mortise-and-tenon joints, but their defining feature is the way their tapered sides curve as they rise to meet the arc on the aprons' bottom edge. The junction looks like a gun-stock joint, but I make it differently, preferring to cut the tight curve into just the leg rather than splitting it between the leg and apron. I'll show you how I do it, and how I create the tapered chamfer on the leg's outside edge.
I'll demonstrate how I shape the tabletop's curved sides and edge profile with three off-the-shelf router bits. The techniques are not difficult, and when you're done with the table you'll have a graceful and welcoming place for meals with friends and family.
Phillip Morley's elegant table legs are a
lot more approachable than you might think.
In this video, Phillip demonstrates his methods
for making a run of these curved wonders.
Curved joint is easier than it looks
Part of this table's presence comes from its gently angled legs. The transition from leg to apron begins a curve that carries along the apron and back to the opposite leg. On the leg's outside corner, there  is a chamfer that narrows as it travels down the leg. The legs and aprons begin as rectilinear blanks, and I cut the mortise-and-tenon joinery in them while they are still square. Keep in mind that the legs slope outward. After the joinery has been cut, I shape the bottom edge of the aprons with a template. Trace the curve on the apron, rough it out, and then rout flush to the template.
Download the plans for this table from the Digital Plans Library. Plus, browse 100+ other plans available for members only.
From Fine Woodworking #275
To view the entire article, please click the View PDF button below.
More on FineWoodworking.com:
View PDF