Projects and Plans
Harvest Table
This Shaker drop-leaf design can be built for two or for 20.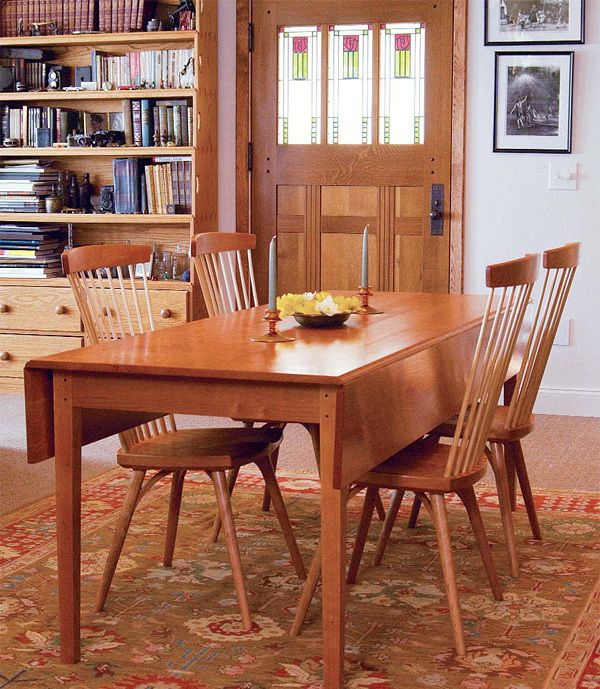 Synopsis: Build a classic Shaker drop-leaf dining table with detailed project plans and step-by-step instruction from Christian Becksvoort. He details his method for cutting the rule joint where the table and leaves join, as well as how to install hinges for smooth operation. Also included are additional options for leaf-support systems, which can be used to support any variety of table extension.
The drop-leaf table is one of the most versatile designs that I build. I've made small, 30-in. square end tables, 10 footers for major dinner parties, tables with drawers, tables with one leaf, and tables with leaves that hang almost to the floor. The form can be used not just for dining tables but also for side, end, serving and couch tables.
Recently, I was commissioned to design and construct a drop-leaf table and a set of chairs to seat eight. The base should provide diners with adequate chair space, with no one straddling a leg. Figuring 24 in. (or more) per serving area, I came up with a base that's 281 ⁄2 in. by 79 in.
For the top dimensions, I figured 31 in. wide by 84 in. long. The top extends beyond the base so that the two 9-in. leaves can hang below. When down, the leaves allow for chairs to be slid under them. With the leaves up, the total width of the tabletop becomes roughly 48 in. (because of the rule-joint overlap). I made this tabletop 13⁄16 in. thick, but 3 ⁄4 in. is the minimum—less than that and the quirk (or filet) on the leaf rule joint becomes too thin or fragile.
Glue Up The Top And Build The Base
Start by gluing up the top and leaves from 7 ⁄8-in.-thick stock. When flattened and sanded, the finished product is 13⁄16 in. thick, a smidge more than minimum. Next, cut the legs to 17 ⁄8 in. square by 291 ⁄4 in. long. Taper the four legs to 13 ⁄8 in. on the tablesaw using a jig, then clean them up on the jointer.
The mortises in the 4-in.-wide aprons are 3 ⁄8 in. thick by 11 ⁄8 in. deep by 31 ⁄8 in. wide (located 3 ⁄4 in. from the top of the leg and 1 ⁄8 in. from the apron bottom). I'm fortunate enough to own a horizontal slot mortiser, but this joint is easily cut by hand, with a drill press and chisels or with a router.
From Fine Woodworking #159
For the full article, download the PDF below:
View PDF