How-To
Innovative Joinery Keeps Desktop Flat and Stable
A detailed look at the radical joinery used to connect the legs and support the top of this writing desk.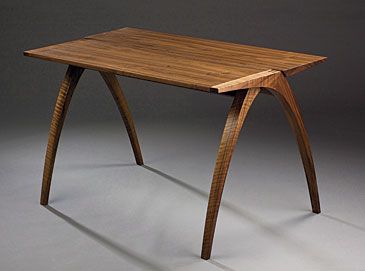 Summary: Take an inside look at the unorthodox combination of joints Aled Lewis uses in his "Wish Desk."
A led Lewis designed radically different joinery for the two pairs of legs on his "Wish Desk". The outside legs, which function like breadboard ends, are attached to the desk with eight floating tenons. he glued the tenons at the edge of the desk to both the desktop and the leg; he left the inner tenons unglued in the oversize mortises in the desktop so the top could move with the seasons. To attach the inner pair of legs to the underside of the desktop, Lewis combined a segmented sliding dovetail with a pair of slip tenons. The slip tenons lock the legs in place, while the sliding dovetail—which is glued to the leg but not the desktop—supports the top and keeps it flat without restricting its movement. To assemble the table, Lewis started with the inner legs, gluing them to their rail and then gluing in the slip tenons and sliding dovetails. The outer legs came next, and Lewis glued the legs to the desktop and the rail in one operation.
From Fine Woodworking #232
For the full article, download the PDF below.
View PDF