How-To
How to Turn a Shaker Leg on a Lathe
Breeze through this elegant turning with guidance from a Shaker expert.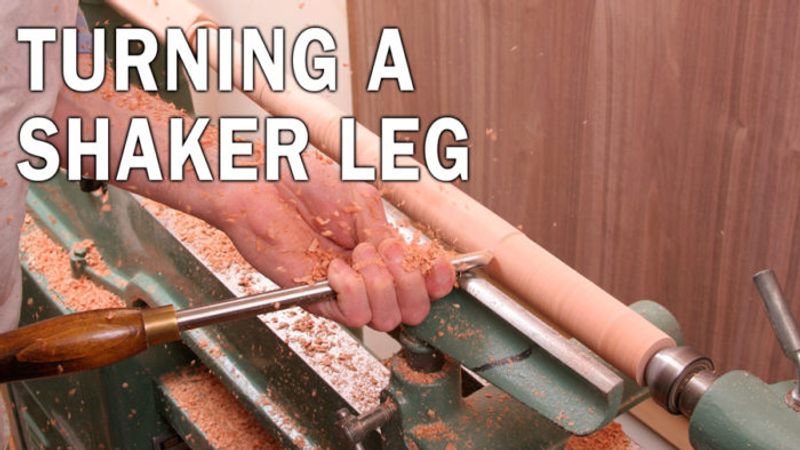 Anissa Kapsales, Cari Delahanty
Originally published Dec 16, 2009
Learn how to turn Shaker-style leg that's perfect for a cherry side table. (Find out how to build a table that matches this leg in Christian Becksvoort's article Shaker Classic, 2 Ways.)
Turning this leg could be a bit of a challenge for a novice, but the techniques are pretty basic.
There are a few points to keep in mind:
The transition where the square top turns round
The ¼ -in.-wide ring just under that, the maximum diameter
The gentle taper down to the bottom of the leg
Going from the square top portion to the round at a 90° angle is a little tricky, since a false move can knock off the corners.
First, measure and mark the transition location on all four sides of the leg. Then begin turning with a ½ -in. gouge as close to that point as possible.
Next, with a diamond-point scraper held on edge, carefully cut in at 90°.
Move the tool straight in to slice and clean up the shoulders, cutting in just deep enough to form a round. Now clean up the round ring to about 1-1/4 in. dia. Just under that, cut in another 1⁄8 in. to reduce the diameter.
Mark down 5 in. and cut a thin line at the maximum diameter (1¼ in.). Then use the diamond-point tool to cut to the bottom. To form the swell taper, I use a gouge and turn from below the transition ring to the max point, then taper gently to the bottom.
Finish with sand paper and 0000 steel wool. Add a light bevel at the bottom. On all the legs (tapered and turned), I break square corners with P220-grit sandpaper.