Designing for clients
For Philip Morley, designing for a client means meeting their vision as well as his own. It can be incredibly challenging, but sometimes it can also push him and his own design beyond his normal comfort zone.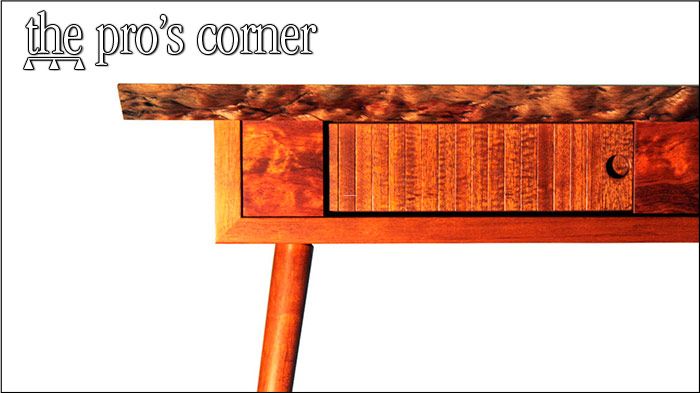 Designing is an element of furniture making that I genuinely enjoy. I love the challenge of synchronizing the client's needs and style with my own. As with many aspects of woodworking, my process of designing has changed a lot over time as I have learned from previous mistakes.
These days, my first step in designing is to meet with the client and discuss their needs and desires. I have learned that a conversation about a ballpark budget must happen at this time to inform the direction of the design. I have spent many hours designing pieces only to find out that I just cannot meet a client's budget. If I know I'll be working within a smaller budget, I can make the design simpler and not be tempted to add time-consuming design elements.
Once I have an idea of direction, I start with simple sketches. I am not an artist, but sometimes my lack of artistic skill can lead to new ideas. As I am sketching, I will see an element that I like and go with it. Like many others, I like the romantic image of designing from sketches or even drafting on vellum, but I find SketchUp to be a critical part of my process. Using SketchUp gives the client a clearer picture of the design and allows me to communicate design ideas to someone hundreds of miles away.
I used to make the mistake of drawing out every element of the joinery in SketchUp from the start. This resulted in many hours of design time as I would go back and forth with the client. I have learned to simply sketch out the shell of my piece to give the client an idea of basic proportions, lines, and scale. Once we have agreed on a design, I go back and add in the details of the joinery and internal components of the piece before I build. With larger pieces, the joinery can become complicated, particularly where you have overlapping joinery. SketchUp can save you from unpleasant surprises.
Even though SketchUp has its place, it is also important to trust your eye. Once I get into the shop things can change. I may start laying out a leg and notice that something looks off. I am not afraid to trust my eye if something doesn't look right but I am always careful to make these changes only if I am certain that it won't create a Domino effect of problems down the line (don't ask me how I know this).
Of course, designing for a client means meeting their vision as well as my own. In practical terms, it means multiple drafts of a design, sometimes many. This can be incredibly challenging, and sometimes a bit of a blow to the old pride, but it can also push me and my design to go beyond my normal comfort zone. Many times, I am pleasantly surprised by the new directions I find myself taking.
Sure, one day I'd like to operate a business where I have complete control over the design of every piece I make. But right now, my ultimate goal is to have a happy client and paid bills. I take pride in the fact that the client will have an extremely well-built piece and I am always amazed by how excited I get at the end of any build, simply because I really enjoy doing what I do, and am grateful to be able to do it.