Easy Technique for Gluing Thin Panels
Low-profile clamps and blue tape combine to eliminate buckling during the glue-up.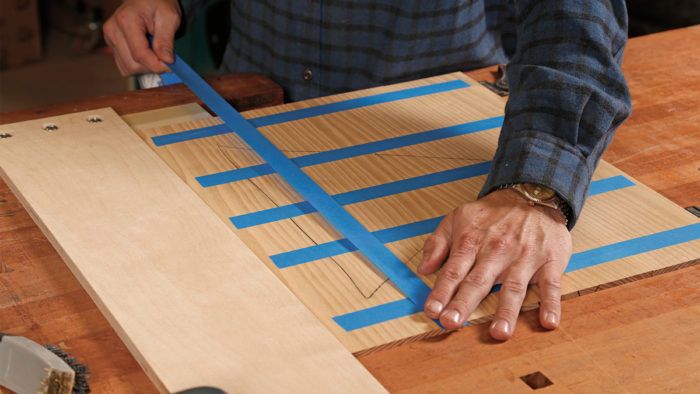 Gluing up thin panels is not easy, because thin boards tend to buckle or shift when clamping pressure is applied. So when faced with the job of gluing up 20 panels, each 1⁄4 in. thick, I found a better way. I had been using blue tape as a clamp when gluing up mitered boxes and it always worked well, so I figured it would work well for the edge joints in thin panels, too. Happily, it does.
But to get truly tight taped edge joints on thin panels, you must have pressure applied across the panel as you lay down the tape. The best way I've found to do this is to pinch the boards between a stop and a pair of Veritas Bench Blades, then apply the tape. Bench Blades, which are clamps that fit in your benchdog holes, have a low-profile jaw activated by a cam mechanism. They apply just the right amount of pressure and do not cause the boards to buckle.
The combination of blue tape, Bench Blades, and a stop makes for a dead-simple, effective technique for gluing up thin panels. It's perfect for these thin door panels, and works just as well for even thinner stock, like shopsawn veneers.
In woodworking, appearance matters. So after I've milled the boards for a panel to their final thickness, I lay them out on my bench and arrange them in different ways, flipping them over and turning them end for end until I find the most pleasing array.
All of the edge joints must close without gaps. To help with this I mark both sides of the joint, one with an "O" for "out" and the other with an "I" for "in," and alternate the faces while edge-jointing). Why? Because jointer fences seem never to be perfectly square. Alternating the faces creates mating edges that compensate for any deviation, ensuring that the panel stays flat. After jointing all of the edges, lay the panel on the bench and check one joint at a time. If you need to apply pressure to close gaps, rejoint the edges.
For the full article, download the PDF below:
View PDF