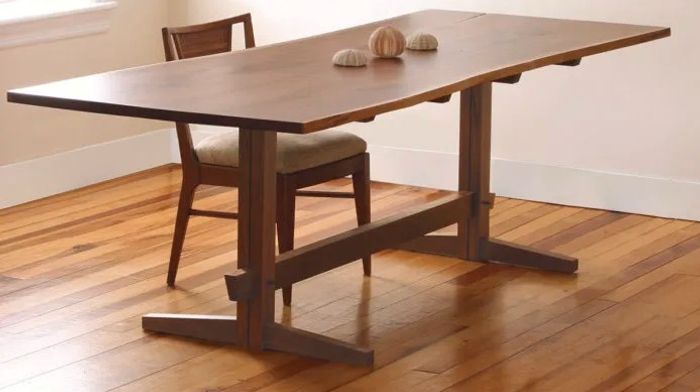 Fine Woodworking Project Guides
Tables and Desks
Expert design and construction advice to help you build tables and desks that are comfortable, useful, and attractive.
Tables and desks are some of the most popular plans and projects in Fine Woodworking. It's easy to understand why. These types of projects are highly functional and typically packed with lessons in basic and advanced woodworking design and techniques that you can often apply to other project types. This guide includes our favorite table and desk projects. Choose from a variety of table types, from dining to hall to coffee tables, and from a variety of styles. The desk chapter is packed as well, with design advice and inspiration, plus there are plenty of projects sure to make your home office more comfortable, attractive, and useful.
Design and Techniques

Tables and desks are great projects because they are useful. But that usefulness brings challenges. For instance, a desk must be the proper height to fit a chair or to allow you to work comfortably. It also should accommodate a variety of devices and allow for upgrades or changes. Tables have similar issues. Any style—coffee, side, hall, or dining—must be the right height to serve its purpose. And you have to think about length and width, and what design details to add. This chapter will guide you through all of those decisions, helping you to build a desk or table that will offer a lifetime of use.

Dining Tables

A dining table is one of the most hardworking pieces of furniture in the home, used for eating meals, of course, but also for dozens of other tasks (think homework, paying bills, projects, and so on). As such, the tabletop and base must be sturdily built to stand up to everyday use. This chapter features three main types of dining tables—apron tables, trestle tables, and pedestal tables—with in-depth projects that cover every step of the construction. And for those occasions when you're expecting a crowd, what better option than to build an expandable dining table?

Side Tables

It's probably no surprise that side tables make up the longest section of this guide. These small tables have a hundred and one uses in the home, from supporting a reading lamp or a flower vase to displaying a beloved photo or a treasured curio—or just providing a place to set down keys or a coffee cup. And then there are stands. Some side tables are rectangular, some are round or even triangular or octagonal. They may or may not have a drawer. This chapter features a rich variety of side tables and stands. They range from tables that are relatively straightforward to build to more challenging designs that will bring your craftsmanship up to the next level.

Coffee Tables and Hall Tables

Small tables are fun to make. They don't typically require a lot of time or material, and you can create many custom details to stretch your design muscles. Coffee tables and hall tables offer another significant advantage: they are very useful and versatile. In this chapter you'll get not only design inspiration but also solid how-to instruction on a variety of these small tables.

Desks

Everyone needs a desk at home for paying bills, doing homework, working from home, and more. Desks have evolved as technology has changed. In the days of inkwells, pens, and paper, a desk typically was packed with cubbyholes, drawers, and cabinets for writing supplies. When computers came along, a desk had to include spaces for large monitors, hard drives, and printers. Today, our tech is smaller, so desks have shrunken in kind. In this chapter you'll find all types of desks—from classic 18th-century pieces full of storage and ornamentation to modern desks that spare the decoration and oversized storage spaces—so you will easily find a project that works for you or that can be customized to suit your needs.