Blog
How to Put a Plane Down
Vic Tesolin weighs in on the never-ending debate about the 'proper' way to put your plane to rest.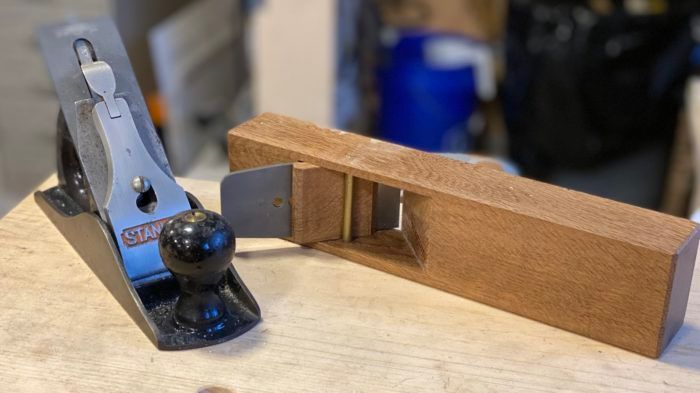 There are many myths within the world of woodworking, and I love putting them to the test to see if there is any truth to them. I've spent over a decade in front of people as a teacher or a hand-tool rep for Veritas, and a comment I always get has to do with how I treat my planes.
I've never really paid attention to how I put my planes down on the bench as I'm working. If I'm holding it normally then I just put it down on its sole. If I'm working with the plane tilted on its side, then on its side it goes. I've never dedicated a moment's thought as to how I put the plane down.
Invariably, someone will "catch" me putting my plane down on its sole and make a public spectacle about educating me on my apparent faux pas. I'm going to call these people the Plane Placing Police (PPP). My favorite PPP are the ones that have the audacity to reach onto my bench and "correct" the position of the plane I was just using. However this chastisement happens, I always ask the PPP why they think the plane should be on its side. Most of the time I get something that sounds like "our shop teacher used to smack us for not putting the plane on it's side." My guess is that the smack had little to do with the plane placement, but I digress.
I've done a lot of looking into this and I can't find a credible source to where this is from. There is precedent that suggests you should lay a wooden plane on its side, but I can't find any reference as to why you should lay a metal plane on its side. Sadly, anyone who could tell us has been dead for a long while, so a lot of this is left up to individual interpretation. In the case of a wooden plane, the idea is that a sharp knock to the sole of a wooden plane could loosen the wedge, changing the set of the blade. To me, this rationale makes sense and that's why I always park my wooden planes that don't have adjusters on their side.
Many of the other reasons the PPP suggest always make me smile:
"You will dull the blade."
A metal blade designed to cut wood? Nope. I'm not buying it.
"You could nick the blade on something metal on the bench."
I've gotten accustomed to woodworking with my eyes open so I don't do hazardous things like placing planes down on metal objects. In fact, I think my blade is much safer facedown on the bench than out in the open where I'm sure to hit the blade with another tool or worse, my knuckles.
I know…I'm being a bit snarky here but I feel it's important that we look at some of this lore and apply a bit of critical thinking. Better yet, try some of these things for yourself and see what happens. I can assure you that putting your metal plane sole-down on the bench will not dull your blade. Remember, if you hear/read something that doesn't pass the sniff test, then there is likely something a bit off about it….and stop touching my tools without asking first!
---