Beyond the basic scraper
For a flat, flawless surface on tricky woods, reach for a cabinet scraper or a scraper plane.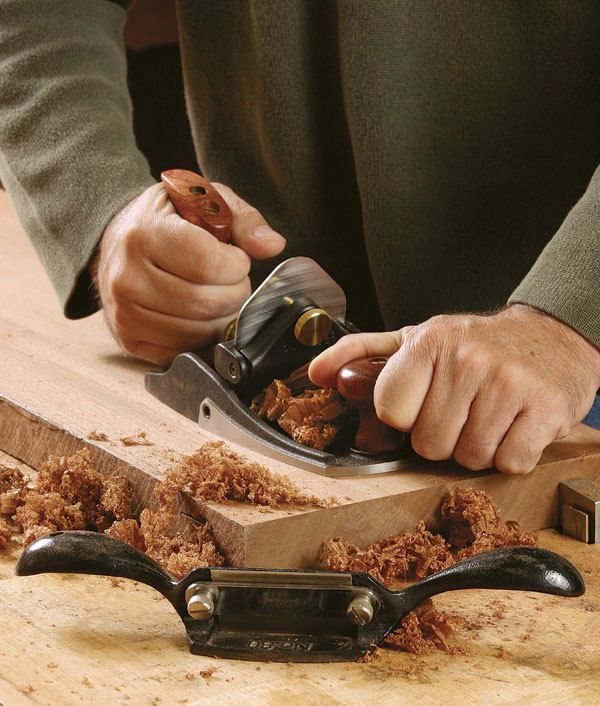 Synopsis: The card scraper is known to many woodworkers as the tool of choice for tackling tricky grain and tough woods. But it's not the whole story. Often, especially on large, flat surfaces, the job can be done easier, faster, and better using the lesser-known cabinet scraper or the scraper plane. Hand-tool expert Chris Gochnour uses all three types in his shop. In this article, he explains what each tool does, what it costs, and how to use it. He also details the best angles for sharpening scraper blades, how to prepare and use a cabinet scraper; how to prepare and use a scraper plane, and when to plane and when to scrape. Armed with this information, you can decide whether to add one or more of these tools to your workbench.
---
When bench planes begin to tear out tricky grain or balk at tough woods, many woodworkers reach for a card scraper. But that isn't always the best choice. Often, especially on large, flat surfaces, the job can be done easier, faster, and better by using one of the card scraper's bigger, lesser-known brothers: the cabinet scraper and the scraper plane.
I use all three scrapers in my shop, because each one has its place. Once you understand what they can do for you, what they cost, and how to use them, you can decide for yourself whether to add one or more to your tool cabinet.
Basic card scraper is best on smaller surfaces Because it's held in both hands with finger pressure slightly flexing the steel, a card scraper lets you make light to moderate cuts depending on how it is held and engaged with the wood surface. The scraper can be pushed or pulled. To make cutting easier, I sometimes create a shearing cut by holding the scraper about 30° to the direction of travel.
As useful as a card scraper is, though, it has significant limitations. It is not an aggressive tool, so it won't remove a lot of material quickly. It cuts with a lot of resistance and, consequently, the cutting edge dulls fairly rapidly. Mainly, though, the card scraper is uncomfortable to hold because your hands are always in contact with sharp corners. Then, too, it creates a lot of friction as it cuts, so the steel can get hot to the touch within minutes. And because it lacks a flat sole to maintain a consistent cutting depth, you have to work carefully to avoid creating shallow dips and valleys.
So, I use a card scraper mostly to smooth smaller surfaces, typically under 18 in. sq. By the time my fingers are hot and my hands are tiring, the work is done. (For more on tuning and using a card scraper, including sharpening at 90°, see "Sharpening and using card scrapers," FWW #172, pp. 26-30.)
Cabinet scraper is better for everything else Compared to the card scraper, the cabinet scraper is considerably more comfortable to use, even over extended time periods. The handles provide a place for the hands, and because fingers never touch the blade, heat is a nonissue. Plus, a cabinet scraper is more likely to maintain a flat, even surface because its sole helps regulate and control the depth of cut. The sole also makes it easy to start and finish cuts on the edges of panels. And a thumbscrew at the center of the scraper keeps the blade flexed for you.
Versatile and easy to use— The cabinet scraper excels at removing mill marks from board edges. Its sole provides the control needed to ensure that a board edge stays true as it is worked.
From Fine Woodworking #189
For the full article, download the PDF below:
View PDF