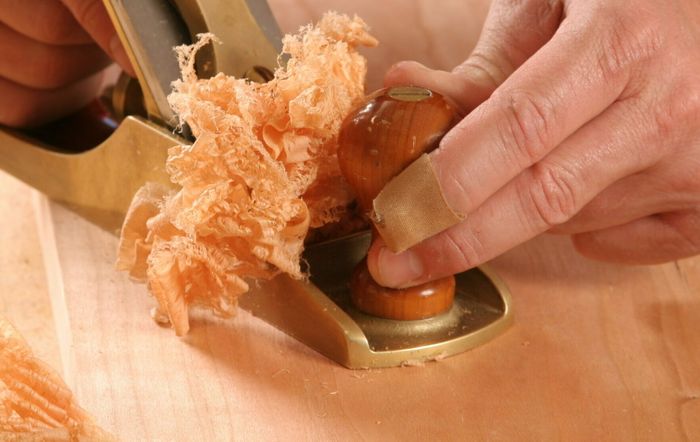 Fine Woodworking Project Guides
Handplanes
All you need to know about choosing and using these versatile, must-have hand tools.
Handplanes are not power tools, but they are among the most powerful tools in a woodworker's shop. These must-have hand tools are ideal for smoothing and shaping parts and for cutting and fitting all types of furniture joints. Handplanes have a long history in the woodshop. In this Project Guide you will learn about all of the different types of planes, from smoothing planes to block planes and beyond. Learn their history, their anatomy, and most importantly, their use. Get professional tips on setup and sharpening that will help you overcome any obstacles to using these fun, quiet tools. Soon enough, you'll be able to unplug with confidence and enjoy success with any handplane you have.
All About Handplanes

Any professional furniture maker will tell you how important handplanes are to their success. But you can't just pick one up and start making shavings. There's a lot to learn before you can even make your first purchase. This chapter will answer your basic questions. Learn what types of planes are right for the work you do. Understand the history of these venerable tools. Discover what it takes to get a plane working smoothly. Plus you'll get some maintenance tips and information on rehabbing an older plane, so you can get started with handwork on the cheap.

Planes for Surfacing and Smoothing

The first handplane many woodworkers buy is a smoothing plane. In this chapter you'll learn everything about smoothing planes so that you can make an educated purchase. You will learn about all of the types of smoothers out there—including the jack plane—and understand why they get numbers assigned to them and what the numbers mean. Dive into lessons on tuning and sharpening, and discover the secrets to overcoming tearout. Practice the techniques, learn to troubleshoot problems, and soon you will spend shop time enjoying the quiet momentum of perfecting a surface by hand.

Planes for Joinery and Shaping

As you deepen your hand-tool skills and knowledge, you will eventually discover the vast family of handplanes designed to fit joinery and to shape furniture parts. These specialized joinery tools will help you fine-tune or cut—from scratch—perfectly fitting joints, from tenons to dadoes and more. The shaping planes will help you sculpt graceful curves and create decorative edges. This chapter reveals the incredible array of specialty tools at your fingertips. You'll understand how they work, get valuable tips on techniques, and open new doors to your woodworking skills.

Block Planes

Yes, it may be small, but the humble block plane is a tool that will play a big role in your woodworking journey. It's a plane you'll likely use every day, tackling a variety of jobs from chamfering and easing edges to cutting end grain and trimming dovetails. In this chapter you'll learn what to look for in a block plane and whether you need both a standard-angle block plane and a low-angle model (always a good idea). A finely tuned block plane is a pleasure to use, and the chapter concludes with some essential advice on tuning up the tool for peak performance.

Scrapers and Scratch Stocks

In this final chapter of the guide, you'll learn about a family of tools that are sometimes overlooked as handplanes. Scrapers smooth or shape with a high-angle scraping action as opposed to the slicing cut of a traditional plane. They cut slowly, but they also work highly figured or difficult woods better than most other planes. The card scraper is the most versatile, ideal for cleaning up milling marks; scraper planes and cabinet scrapers produce a flat flawless surface on tricky woods and gnarly grain; and scratch stocks are simple hand tools used to shape small details on furniture. Learn how to use and sharpen them all right here.